The Galapagos share
The Galapagos share
Galapagos (ticker: GLPG) is listed on Euronext Amsterdam and Brussels since its IPO in May 2005. Galapagos forms part of the BelMid index on Euronext Brussels and was included in the Amsterdam Midcap (AMx) Index on Euronext Amsterdam on 23 March 2015.
The Galapagos share in 2014

In 2014, average daily trading on Euronext was 68,751 shares and €1.0 million trading value. These levels were similar to those of 2013. GLPYY is a company-sponsored level 1 ADR traded over the counter in the United States since 2008. In 2014, a daily average of 1,898 ADRs were traded over the counter.
Galapagos vs Next Biotech Index in 2014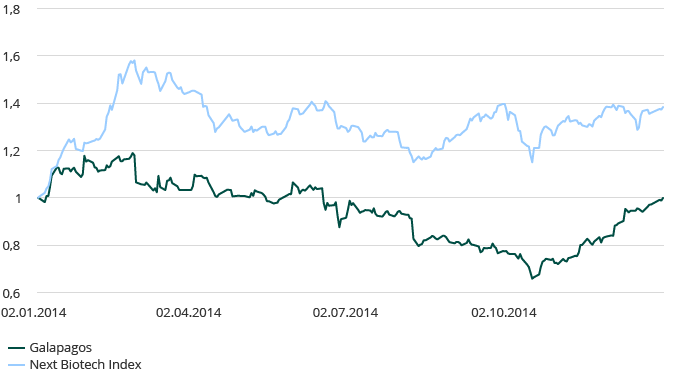 Investor relations activities
Galapagos presented at 20 conferences in 2014 and did a number of broker-organized and self-organized roadshows in the US and Europe. Galapagos presented Full Year results 2014 and its Annual R&D Update via webcasts. The main topics of discussion with investors included the filgotinib DARWIN Phase 2b program and agreement with AbbVie, developments in our cystic fibrosis programs, and Galapagos' cash position going forward.