Letter from our CEO
When Galapagos was founded more than two decades ago, we set out to discover new medicines with novel modes of action. By applying our deep scientific expertise and disease pathway knowledge, we identified new targets and successfully brought a novel medicine to market. We are very proud of how far we have come and what we have achieved, demonstrated by the successful launch of our first medicine Jyseleca in Europe.
Guided by our purpose to bring transformational medicines to patients around the world to help them live longer and healthier lives, we are today announcing our Forward, Faster strategy to accelerate growth and value creation by reshaping the way we innovate and operate.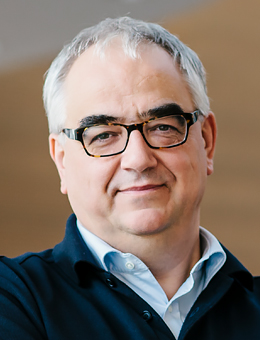 This new strategic direction is based on three key pillars. First, we will shift from novel target-based discovery to patient-centric medical need research and development with a focus on our key therapeutic areas of immunology and oncology. Second, we will build on our current capabilities and de-risk R&D through multiple drug modalities, including CAR-T and by focusing on best-in-disease validated targets in our strategic therapeutic areas with shorter time-to-patient potential. Third, we will increase our business development efforts to complement our pipeline and continue to work with our collaboration partner Gilead to bring more medicines to patients worldwide.
Our new fit-for-purpose organizational structure and operating model will focus on accelerating our pipelines in immunology and oncology, supported by externally sourced opportunities. And we will discontinue our activities in fibrosis and kidney disease 1.
As a result of our new strategic direction, we intend to reduce our workforce by approximately 200 positions across our sites in Europe to create room to reinvest in new capabilities and programs in our oncology franchise.
This is a difficult but necessary decision and we will follow all applicable processes with respect for our people.
We have a clear path forward for accelerated growth and value creation for all our stakeholders.
Respectfully,
Dr. Paul Stoffels 2
CEO and Chairman of the Board of Directors
CAR-T
Chimeric antigen receptor T cells (also known as CAR T cells) are T cells that have been genetically engineered to produce an artificial T cell receptor for use in immunotherapy
1 1The study with '2737 in polycystic kidney disease is ongoing with topline results expected in the first half of 2023. If successful, we aim to outlicense the program.
2 2Acting via Stoffels IMC BV