Veronique Deiteren
'You're contributing to the company's success'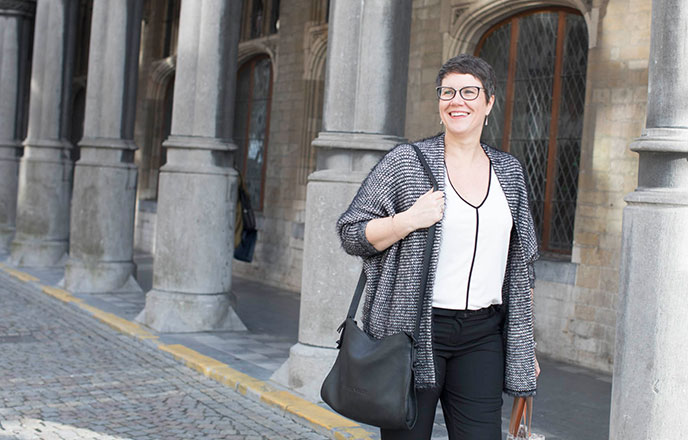 Veronique Deiteren is responsible for HR at three sites in three different countries. She was promoted into the role just a year and a half ago.
''With every new responsibility I've been given I've been pushed to go out of my comfort zone. It is quite challenging and scary sometimes, but it's what makes me grow as a person, and it is even more rewarding when you then succeed and feel appreciated. When I stepped into this position, parts of the HR teams for Mechelen and Romainville were entirely new. They needed training; we all needed to catch up. We installed new recruitment programs and new systems which have enabled us to operate more efficiently, and we need to. We have 374 people doing work at the Belgian, Dutch, and French sites now, with more than 50 to join next year and another 50 the following year. It introduces major challenges.'
Expertise and experience
'Finding qualified people with experience in clinical projects and the industrial environment is a challenge for recruiters. The Belgian biotech and pharma industry is not that large, so we look further afield for people with the right qualifications, specific knowledge and expertise that allows them to go straight to work.'
People with the ability to bring their own ideas and innovate, are our best asset.
Being competitive
'Working at Galapagos is very demanding and challenging. You have to be prepared to push your limits. But in return, you really feel like you're contributing to the company's success; people want to be part of that and our pipeline and exciting projects. We still need to stay competitive, meet expectations and industry standards, and manage change.'
Maintaining values
'As we grow, Galapagos will have more processes and procedures, but we want to make sure that the way we work today is still in place: with people participating in a workplace where they are treated equally and with respect, and where their opinions are valued. We don't want to become one of those companies that take forever to make a decision. People with the ability to bring their own ideas and innovate, are our best asset. We are determined to keep what we have.'