Letter from the management
Letter from the management
Dear shareholder,
The year 2016 was excellent for Galapagos: we strengthened our pipeline of new medicines and created a solid basis for continued growth in the coming years. With filgotinib in major Phase 3 trials for rheumatoid arthritis, Crohn's disease and ulcerative colitis, we have entered the final phase before our first drug may enter the market. This program has a long history since the identification of the JAK1 target in 2004. It is thanks to the belief, the stamina, and the excellence of the Galapagos team that filgotinib is now seen as one of the most promising potential new treatment options for inflammatory diseases. We are reliving that journey with other molecules in our pipeline. Most notably, in our cystic fibrosis program we are planning to test a triple combination therapy in patients in mid-2017, which could be a major breakthrough for the vast majority of patients with this disease.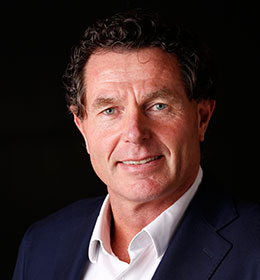 The Galapagos strategy has remained unchanged over the years: with our patented technology platform we continue to identify novel drug targets in human cells. Based on these targets, we develop small molecule drugs that we take through clinical development. We have come a long way, evolving from a technology company into a fully integrated R&D organization. Now is the time to prepare for the next step: to deliver our innovative medicines to the patients. To that end, we plan to build our commercial infrastructure to be ready when filgotinib is expected to be launched, and this infrastructure can be expanded once other Galapagos medicines reach that stage. Galapagos delivers in R&D and in our collaborations; we aim to deliver to patients as well.
Our growth continues to accelerate: we are expanding our development organization in 2017. This will be a challenge, but we like challenges. We are looking for exceptional people who want to play an important part in our adventure. We seek experts in drug development who feel comfortable in a work place that has the explorative and dynamic culture of a biotech, as well as the success and certainty of a pharma. Smart people, who think big, push their limits, and share our ambition to have impact. We want to deliver.
Proudly we present our annual report 2016, reflecting the important progress made last year.
2016: Extending our success in R&D
In the field of inflammation:
Closed our global collaboration with Gilead on filgotinib, received

$300 million

upfront fee and

$425 million

equity investment from Gilead
Reported promising safety and activity profile with filgotinib at 20 weeks in the FITZROY Phase 2 study in Crohn's disease
Disclosed achievement of high endoscopy and statistically significant histopathology scores versus placebo at 10 weeks in FITZROY; these and other FITZROY data were published in The Lancet
Initiated the FINCH Phase 3 program with filgotinib in rheumatoid arthritis, the DIVERSITY Phase 3 program in Crohn's disease, and the SELECTION Phase 2b/3 program in ulcerative colitis
Initiated a Phase 1b study with antibody MOR106, dosed first atopic dermatitis patients, and disclosed novel Galapagos target IL-17C of MOR106, all in our collaboration with MorphoSys
Nominated pre-clinical candidate GLPG2534 in atopic dermatitis
Reported that GLPG1205 was well tolerated and safe but did not show competitive activity versus placebo in the ORIGIN Phase 2 study
In cystic fibrosis:
In osteoarthritis:
In pulmonary disease:
Received orphan drug status in Europe for GLPG1690
Nominated new pre-clinical candidate GLPG2938 for IPF
Grants:
Received a

€1.2 million

Flemish government grant for our type 2 diabetes program
Corporate
Appointed Dr. Mary Kerr as director of Galapagos
Raised

€4.3 million

from warrant exercises
Were included in the AEX and Bel20 main indices in Amsterdam and Brussels
Were included in the Stoxx Europe 600 index
2016: Details of the financial results
Revenues
Galapagos' revenues and other income for 2016 amounted to €151.6 million, compared to €60.6 million in 2015. Increased revenues were mainly driven by a substantial increase in milestone payments from our collaboration partners.
Operating result
The group realized a net operating loss in 2016 of €11.5 million, compared to a net operating loss of €89.4 million in 2015.
R&D expenses for the group in 2016 were €139.6 million compared to €129.7 million in 2015. This planned increase was due mainly to increased efforts on our clinical and pre-clinical programs, primarily the cystic fibrosis program and the proprietary pre-clinical programs in inflammation, HBV and fibrosis.
G&A and S&M expenses of the group were €23.5 million in 2016, compared to €20.3 million in 2015. This increase was due primarily to non-cash items such as a higher payable for short term and long term management bonus and higher costs for warrant plans, mainly as a result of the increase of the Galapagos share price.
Non-cash adjustment on short term financial asset
In 2015, Galapagos recognized a short term financial asset worth €39 million and an offsetting deferred income of €39 million upon signing of the share subscription agreement with Gilead, as required under IAS 39. This financial asset initially reflected the share premium that Gilead committed to pay above the closing share price of Galapagos on the day of signing of the share subscription agreement. Under IAS 39, the fair value of the financial asset was re-measured at year end and again upon entering into force of the share subscription agreement on 19 January 2016, when the financial asset expired. Variations in fair value of the financial asset were recorded in the income statement.
The decrease in the fair value of the financial asset resulting from the increase in the Galapagos share price between signing of the share subscription agreement and 31 December 2015, resulted in a negative, non-cash fair value charge of €30.6 million in the 2015 financial results. The subsequent increase in the fair value of the financial asset resulting from the decrease in the Galapagos share price between 1 January 2016 and 19 January 2016 resulted in a positive non-cash gain of €57.5 million in the financial result of 2016.
The €65.9 million current financial asset from the share subscription agreement reflected the premium that Gilead paid compared to the closing price of the Galapagos share on the day of the capital increase. This financial asset expired on 19 January 2016, the effective date of the share subscription agreement and was derecognized through the share premium account.
Cash position
Cash, cash equivalents, and restricted cash totaled €980.9 million on 31 December 2016.
A net increase of €632.7 million in cash, cash equivalents and restricted cash was recorded in 2016. Net cash flows from financing activities generated €391.8 million through a subscription of Galapagos shares by Gilead, as well as €4.3 million from warrant exercises. Furthermore, a net cash inflow from operating activities was realized for €239.4 million in 2016 resulting from the license fee of $300 million (€275.6 million) received from Gilead and, by difference, from an operating cash burn of €36.2 million. Finally, €7.3 million was used in investing activities and €4.8 million positive exchange rate differences were generated on cash and cash equivalents. When excluding the license fee and milestone payments from Gilead (€56.4 million), the net cash outflows used in operating and investing activities amount to €100.3 million.
Furthermore, Galapagos' balance sheet holds an unconditional and unrestricted receivable from the French government (Crédit d'Impôt Recherche Crédit d'Impôt Recherche refers to an innovation incentive system underwritten by the French government.) now amounting to €34.2 million, payable in 4 yearly tranches. Galapagos' balance sheet also holds a receivable from the Belgian Government for R&D incentives now amounting to €30.2 million.
Outlook 2017
Galapagos aims to initiate a CF patient evaluation of its triple combination therapy by mid-2017, as well as multiple new clinical studies with CF candidates and combinations throughout the year. Together with our collaboration partner Gilead we plan to start multiple proof-of-concept studies with filgotinib. Topline results from the FLORA Phase 2a study with GLPG1690 in IPF and from the Phase 1b study with MOR106 in atopic dermatitis patients are expected in the second half of 2017. Galapagos expects to initiate a Phase 1b study with GLPG1972 in osteoarthritis patients in the US, as well as Phase 1 studies with GLPG2938 (IPF) and with GLPG2534 (atopic dermatitis).
Galapagos expects an operational cash burn of €135-155 million during 2017.
I wish to thank our shareholders again for their support last year. We ended 2016 in the best shape yet, both financially and operationally. We plan to advance our triple combination therapy in CF to patient studies, to progress the rest of our pipeline, and to work with our collaboration partner Gilead to explore filgotinib broadly in inflammation.
Regards,
Onno van de Stolpe
CEO
1 Crédit d'Impôt Recherche refers to an innovation incentive system underwritten by the French government.