Material aspect 2: Our employees are the strength behind Galapagos
Attracting, developing, and retaining human capital is key to our success in developing novel mechanism of action drugs that can make a difference for patients. The key to achieve this is to make Galapagos the coolest place to work.
'Make it Happen' is core to our corporate culture and we continue to make sure this aspect is protected and managed as we continue to grow as an organization.
We are dedicated to ensuring diversity of our workforce and are committed to foster an inclusive, open and supportive work environment across our locations in Europe and the U.S.
With the goal to execute multiple clinical trials in 2020 and the anticipated commercialization of our first product, our organization continues to expand, build capability and expertise, and we are committed to maintaining our corporate DNA.
Gender Equality
We strive for gender equality across multiple dimensions, including talent attraction, female leadership and talent pipeline development, equal pay and gender pay parity, instilling an inclusive culture, and rigorous implementation of sexual harassment policies. We are committed to supporting gender equality through policy development, representation, and transparency.
For example, in February, we celebrated the International Day of Women and Girls in Science, endorsing equal access to, and participation in science for women and girls. The talent and dedication of the 60% of our R&D colleagues who are women is essential to helping patients now and in the future.
Galapagos is proud to be included the 2020 Bloomberg Gender-Equality Index
The list encompasses 325 companies headquartered in 42 countries and regions, across 11 sectors
Diversity
We aim to continue to develop an inclusive and diverse workforce as our business further grows and evolves towards an integrated, global biopharma company. We strive for diversity across gender, nationality, ethnicity, experience level, and disability.
But no matter how diverse we are, we all have the same purpose of pursuing medical breakthroughs to improve people's lives.
Our board of directors currently comprises eight members of whom three are female (we refer to the section Board of directors of our Annual Report 2019 for further information on each board member)
We attracted 279 new employees in 2019, an increase of 38% versus 2018
We continue to attract people with various backgrounds and now have 39 different nationalities within the Galapagos group
Human capital management
At Galapagos, we believe our strong culture is critical to our business success. Our spirit of challenging ourselves without fear of failure underpins our work. While this bold attitude is naturally in our DNA – and we recruit exceptional people who are the right fit – we have defined our culture in a behavioural framework.
We act as a pioneer and are optimistic in our ambitions, motivated by innovation and attracted by the unknown.
We positively embrace change and adapt to circumstances. Failing on occasion doesn't deter us; it's how we pick ourselves up that matters.
We challenge ourselves and, in doing so, raise the bar of what is possible.
Together, we want to create value and improve lives through science – and we find ways to make it happen.
As Galapagos grows and changes, and new people from different backgrounds join our adventure, we want to ensure our culture evolves in the right way. We are developing structured, integrated systems and practices that ensure we are all heading in the same direction on our path of discovery – because our culture transcends everything we do.
We offer our employees the platform to grow, develop, fail, learn and succeed. Our ambitious business strategy offers great opportunities to enhance skills & competencies with the aim to continue delivering innovative science and breakthrough medicines. We honor our successes, whilst constantly raising the bar and allowing room for trial & error to drive innovation. We encourage our people to take ownership, be entrepreneurial and make a difference.
At Galapagos, we offer a competitive remuneration package that aims to reward, recognize, develop and retain our employees in the most relevant way. We have policies in place to ensure the well-being of our employees and offer different forms of leave and flexible working conditions to ensure a proper work-life balance.
We aim to ensure an inclusive, open, and supportive professional work environment across our international locations. We organize regular engagement meetings across all our business units to inspire and align the fast-growing teams behind our vision and ambition. We hold regular informal lunch meetings with executive committee members for new and long-time employees across the different sites.
We listen to our people through formal and informal channels established to ensure adequate anonymity and psychological safety. Surveys are conducted to evaluate our actions, impact and agility of our people processes. These and other indicators allow us to consider actions to optimize our work environment and enhance employee experience.
Our involvement with local communities and charities
We are approaching the moment that we bring our first drug to the market. Delivering innovative medicines to transform patients' lives is our ultimate goal.
We also want to be part of the community in which we work and live. Since 2018, that has been the idea behind our annual Company Day, which includes tailor-made programs for each of the Galapagos sites, involving a range of charity organizations.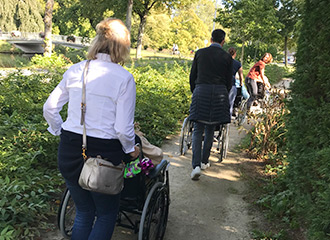 Walk
We walked with home care residents, active and dependent elderly people, and people with a disability.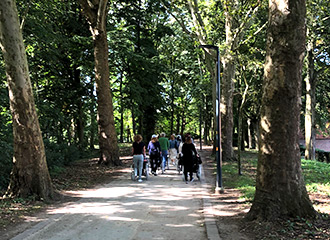 One to one support
We participated in one-on-one activities organized by care centers for the elderly and organizations that fight against the exclusion of the most fragile people in society (e.g. female victims of human trafficking, handicapped people).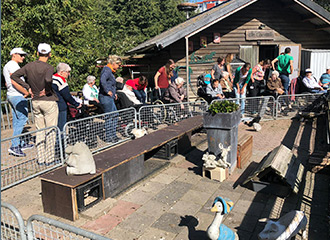 Visit
We visited residential care centers and helped organizing a fun day-out for the residents.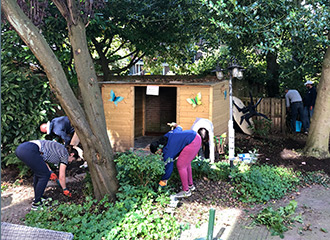 For the handy (wo)men
We painted, cleaned, baked pancakes, assembled furniture and organized other fun activities with residents and care givers of centers for children and adults with physical and mental disabilities.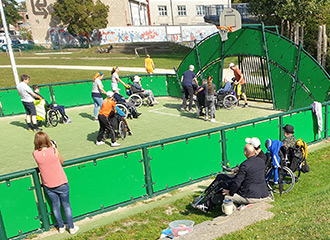 Entertainment
We organized indoor and outdoor activities for residents of care centers for children and adults with disabilities and dementia.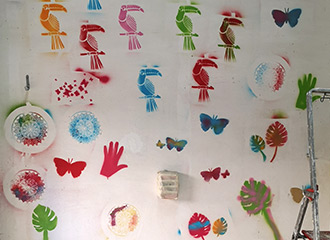 Be creative
We decorated the rooms and held a cooking workshop for emergency shelters that welcome people in need and that help people to stay clear or get out of prostitution.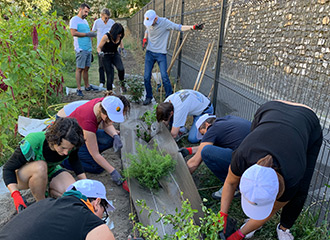 Close to nature
In Montreuil, we cleared the wasteland, cleaned the waste and prepared the soil for plantation. In the first flower farm of Paris, we will grow young plants together with the neighborhood residents in a local greenhouse.
We promote a career in science
We actively engage in promoting science and a career in science. Each year, we organize company visits and internships for high school and bachelor students at our sites in Leiden, Mechelen and Romainville. Especially the internships offer students first-hand experience with working in a biopharma environment, show them how scientific research has the potential to impact patients' lives.
Actions in 2019
We engaged with local communities to 'give back to society'
We celebrated our 20th anniversary in July 2019 with our staff, partners and other stakeholders
Our fast-paced growth has steered us to further improve our candidate-employee experiences, which started with a revamped talent-scouting model. Insourced recruitment with a team of talent acquisition and sourcing specialists was set up, raising the quality of our process to attract and assess talent globally, and hire a diverse complementary mix of talents fitting well with the DNA of the company
We created a new global career site: 'call for purpose' to send the right message to candidates and to make it more easy for potential talents to apply to interesting careers. We also refreshed our job stand in line with our employer brand and participated in career fairs
An onboarding application was deployed to handhold employees across ranks, to smoothly yet effectively internalize the company values and set the tone to help them succeed in their roles.
Following the Gilead transaction, we implemented a company-wide bonus plan to incentivize and retain our employees and share in the success of the company
5.6% turnover of employees for the Galapagos group, excluding the termination of temporary and consultancy contracts
Our Rewards Centre of Expertise accomplished new avenues by establishing the Global mobility teams to support our international hires. This has been a key step to support our commercialization ambitions in the big 5 EU markets & Benelux
There were extensive grading & benchmarking efforts to review & ensure that our total rewards offerings were competitive and fair. We aimed to drive a collective mindset to achieve our ambitions in a sustainable way
Our performance management processes were enhanced to foster frequent dialogues between the manager and direct reports as well as with peers. The clear intent to empower each employee, has contributed to a smoother approach for personal growth and it has strengthened our culture to have open and honest conversations to drive performance.
85% of all staff participated in the Performance Boost sessions to improve the quality and maturity of performance & coaching conversations. In addition, an anytime feedback tool was entrusted to all our employees to help them broaden their perspectives and sharpen their skills
Future ambitions
Talent Acquisition: The focus on talent will become even more proactive. We are building talent pipelines for now and the future, making sure our DNA remains intact. With growth in the markets, we will also have our talent acquisition specialists support Local4Local hires, in alignment with our hiring strategy & principles. We further aim to sharpen this axis by preparing interviewing guides for hiring managers, by putting in place a referral program, by deploying focused employer branding initiatives in the new operating countries.
Talent Development: Our ambition is to create opportunities for our leaders to role model key behaviors, embody corporate values and create the context for their teams to excel. Several transformation initiatives that are personal and leadership centric are envisaged to embark on agile and continuous learning. The talent philosophy and strategy will be further clarified to better support our leadership and teams towards collective capability enhancement. Internal Talent pipelines and succession plans will be refined where appropriate to support the company growth.
Embracing Technology: We are embarking on a journey to adopt cutting edge and digital solutions to boost candidate and employee experience. Deployment of empowering people processes by continuous improvement and streamlining, investing in the scalability and consistency of our processes across the whole organization will be instrumental to success.