Magazine
Magazine
Pioneering
for patients
2019 – a historic year
At Galapagos, everything we do is with patients in mind. By using our scientific knowledge, our partnerships, and our passion to make a difference, we aim to improve the lives of those with unmet needs – and 2019 was a historic year in our work to achieve this.
Receiving positive data from our first Phase 3 study in RA was a particularly momentous occasion. This has allowed us to file for a license in Europe, Japan and the United States. We started our ISABELA trial in IPF: our first Phase 3 that we execute ourselves and the largest global study in IPF ever. A true pivotal moment was the deal we signed with Gilead. The 10 years stability and $5.5 billion will enable us to focus on the discovery and development of further molecules to improve lives of patients.
2019 also marked a significant anniversary for us, as we celebrated 20 years of operation.
Throughout our history, we have worked without fear to try new approaches and transform how medicines are discovered. As we grow, we will continue to raise the bar for ourselves and other biotechnology companies, developing innovative medicines that will make a difference.
Doing more and
moving faster, together
In July 2019, we entered into a 10-year global research and development collaboration with Gilead. Through this strategic partnership, we secured our independence, and we now have the resources we need to expand and accelerate our research and development programs, enabling us to get innovative drugs to market faster.
Onno van de Stolpe, CEO, reflects on the significance of this landmark deal.
Getting medicines to market demands a huge commitment in terms of resources, so our collaboration with Gilead will make a great impact in helping us to speed up our drug delivery process. Our collaboration is cause for celebration on both sides – Gilead benefits from access to the pipeline created by our target discoveryplatform, while we benefit greatly from Gilead's expertise and infrastructure. At the same time, we keep our independence and have the freedom to invest in research and operations required to make us a global powerhouse in biotech.
At the same time, we keep our independence and have the freedom to invest in research and operations required to make us a global powerhouse in biotech.
Our collaboration with Gilead will make a great impact in helping us to speed up our drug delivery process.
Gilead's investment builds on our successful filgotinib collaboration and is a huge endorsement of our target discovery platform and the strength of our pipeline. At the core of this agreement is a desire to maximize innovation based on developing new mode of action medicines. With the capital provided by Gilead, we can accelerate the development of current and new programs for patients. That will have a huge impact not only on the person affected, but on their families, friends and society in general.
Looking ahead, this partnership will also enable us to work towards our top 10 biotech ambition, by optimizing the global potential of our products.
The acceleration of our programs for patients will have a huge impact not only on the person affected, but on their families, friends and society in general.
We are transforming drug discovery
At Galapagos, we discover and develop novel medicines. What makes us different is how we innovate. Our daring approach to discovery and development rests on the knowledge of disease biology that our own experts have built up over the past 20 years.
In the past, most medicines treated the symptoms of a disease. Today, we tackle the disease itself. Our proprietary target discovery platform makes it possible to identify the starting points of disease processes and develop novel medicines, that address those starting points. This process is shown in the infographic below.
Can we make a difference?
Discover how we develop medicines

This infographic explains how we develop a new medicine in six steps. Click on the numbers to discover what is done in which step.

Can we make a difference

The start of a project is sparked by the question, 'Can we make a difference?' Are we the first, can we be the most innovative, can we really bring benefit to the patient?'

Our proprietary target discovery engine

The combination of disease assays with target discovery tools (our proprietary target discovery engine) generates a unique knowhow about disease processes and the role of individual targets in a disease. We select targets that play an active role in the disease process for further drug discovery.

Disease assay

In the lab, we mimic the disease using patient cells and carry out our research in this 'disease assay'. For each project, we build a new assay. Assays are proprietary, and this approach yields new insights and starting points with the potential to lead to new medicines.

Target discovery tools (RNAi)

We use our RNAi discovery technology to find the molecular starting points (called targets) of a disease. This technology allows us to knock down targets, so they are no longer present in the cells, and study how this influences the disease process. We do this for thousands of individual targets in parallel.

Find a matching compound

We search through large collections of chemical compounds to find one that attaches itself to the target and suppresses its function.

Develop a potential medicine

We develop the chemical compound into a potential medicine. Through medicinal chemistry, the molecule is modified so that it incorporates the traits necessary for a drug (e.g. potency, stability, solubility, safety).

Test the potential medicine

We assess the effects and safety of the medicine by testing it in the lab, on animals, on a small group of human volunteers and then finally on a large group of patients.

Feed forward into new drug development

We feed the insights we gain from our clinical patient studies into the loop of drug development, contributing to our knowledge and expertise in disease biology. Our unique approach increases the chances of bringing more, and better, new drugs to the market and to patients.
Pioneering for patients
We have been using this approach for our research consistently for over 20 years. Thanks to this unique scientific approach, we have built a vast bank of proprietary knowledge on disease biology. Together with a bullish ambition to build our pipeline, this has led us to the extraordinary position we find ourselves in today: over 40 unique compounds, more than half of which have gone into clinical development.
We foster our people-centricity
Our people and culture are crucial to our business success. We strive to challenge ourselves without fear of failure, and we look for people from different backgrounds who thrive in an environment that embraces change and who are bold in their approach. We are not afraid to go where others haven't, working together to achieve shared goals on our path of discovery.
Here, three colleagues share a personal, standout anecdote that they believe best demonstrates our culture.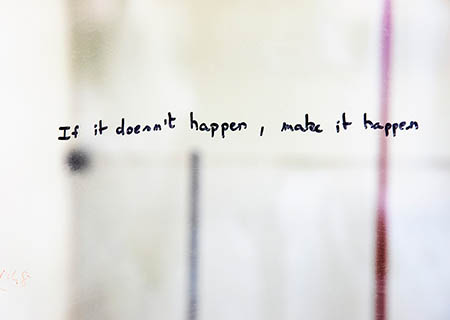 If something doesn't work out, rethink it

My colleagues and I collect powerful quotes and write them on a lab window to inspire us as we work. One particular quote – 'If it doesn't happen, make it happen' – proved particularly useful on a demanding project involving a chemical synthesis. In 2012, we knew we were on to a very promising molecule, so, with the quote in mind, we forged ahead. It took us four months to deliver, but it eventually led to a preclinical candidate.

Our driving aim is to contribute to molecules that, one day, will better people's lives, and our inspirational quotes remind us of that goal when things are difficult. What I appreciate in Galapagos is the agility of our research and development. If something doesn't work out the way we thought it would, we rethink it. And rethink it. Until it works.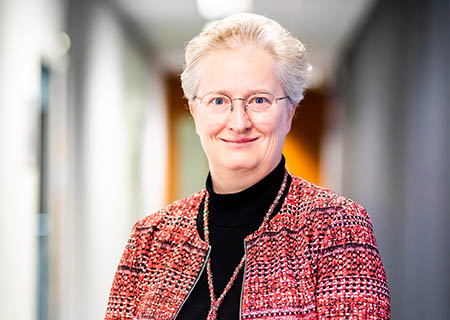 Letting go of our hierarchy makes it easier to see the positive impact change can have

Since I joined Galapagos 10 years ago, I've been building and shaping the organization, looking at how best to distribute new and existing roles and responsibilities.

Over time, the development has taken various departments that were originally reporting to me into other leadership areas. The overall growth of the company has always provided me opportunities to build, broaden or deepen something new, and my focus has been on bringing to the organization what it requires regardless of the impact on my own territory. I will continue to deliver what Galapagos requires and look at where certain skills and experience sit best.

Working at Galapagos has taught me to not be afraid of letting hierarchy go and to show others the positive results of what can happen when you do.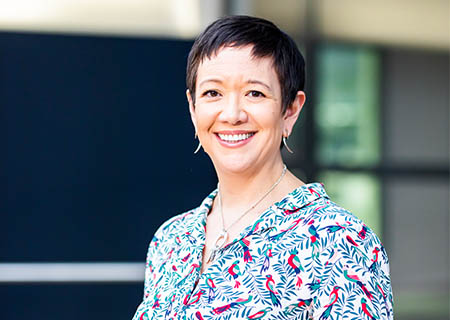 We are encouraged to take risks – but recognize no one is perfect

A couple of years ago, our CEO, Onno van de Stolpe, asked for my opinion on a third-party patent I had been analysing. I said I didn't think it was something we should pursue. I said there was always a possibility I could be wrong and that someone else could do something with the patent and compete with us, but I felt it wasn't going anywhere.

Onno said to me: 'I'm asking for your professional opinion, your best judgement of what to do. I don't expect it to be bullet proof.'

At Galapagos, we are encouraged to give our best advice and take risks, but we recognize that everyone is fallible. If your best analysis turns out to be wrong, no one will come back and blame you. It is that perspective that gives you the confidence to take risks.
Meet our executive committee
Innovation is at the heart of our company, and an important enabler for our team spirit that encourages everyone to act as pioneers. That also applies to our executive committee – together we make it happen.