Novel modulator combinations for treating CF
Novel modulator combinations for treating CF
Galapagos believes that its CF modulators have the potential to offer important advantages compared to currently approved therapies as well as other therapies under development:
Disease modifying activity in Class II/III mutations in CF
Regaining greater than 50% of CFTR activity, important for achieving compelling clinical efficacy;
Improved risk/benefit compared to standard of care
Small molecules allowing for oral administration
Adequate safety profile for chronic use, including pediatric application
No adverse interactions with drugs commonly taken by CF patients, including antibiotics and anti-inflammatory drugs; and
Active in homo- & heterozygous patients
Galapagos believes that it is well positioned in CF due to our:
Robust portfolio of CF modulators, including prolific chemistry with multiple binding modes to modulate CFTR
Unique assay cascade, including primary cells from CF patients, for screening of candidate drugs that modulate the CFTR protein
Expertise in working since 2005 with a broad discovery platform containing highly relevant disease assays starting from cells from CF patients; and
Collaborative partnership with AbbVie, which is an expert in combination therapies and committed to the CF field
Galapagos is developing novel oral corrector-potentiator combinations for the treatment of CF patients with the Class II F508del mutation, including both homozygous and heterozygous patients. The aim is to develop multiple correctors and multiple potentiators for patients with this mutation, and Galapagos has been successful in identifying multiple candidates in each focus area thus far. Galapagos does this to increase the chances of success in the event that molecules fail along the development path, but also to achieve the highest possible improvement in CFTR function for these patients. We believe that multiple drugs will ultimately need to be used in combination in order to achieve compelling clinical efficacy.
Therapies that restore CFTR function through a combination of correctors and potentiators improve hydration of the lung surface and subsequent restoration of mucociliary clearance. Galapagos is focused on increasing the percentage of wild-type CFTR restored to greater than 50%. We believe that a potentiator/corrector combination restoring more than 50% of healthy function CFTR will have a substantially positive impact on the quality of life of Class II patients and can reverse disease. Galapagos also believes it is important to use the lack of drug-drug interaction such as interference with the working of antibiotics, an important class of medication for CF patients, as a key screening criterion in the CF programs.
Galapagos has identified multiple series of novel corrector molecules that enhance the restoration of CFTR in combination with the Company's novel potentiators. We believe that a triple combination of a potentiator, a C1 corrector and a C2 corrector will deliver the best therapeutic result in Class II patients. C1 and C2 correctors differ in the way they bind with CFTR and contribute to the restoration of CFTR function. In order to increase the chances of success and of selecting the best possible triple combination, Galapagos and our collaboration partner AbbVie are developing a portfolio of CF compounds comprising at least one lead and at least one follow-on molecule for each position in the triple combination therapy for Class II patients.
Based on pre-clinical data, Galapagos believes that potentiator GLPG1837 has the potential to offer a favorable efficacy and safety profile, important for Class III positioning, but also important for forming the potentiator component of combination therapies for Class II mutation patients as well.
Diagram C below summarizes the results of a pre-clinical evaluation of potentiator GLPG1837 and Vertex's Kalydeco potentiator in heterozygous donor cells from a single donor with the G551D and F508del mutations. The first bar shows the activity of the Kalydeco potentiator, which achieved approximately 30% wild-type restoration on average in this assay. The second bar shows the activity of GLPG1837, which achieved greater wild-type restoration on average in this assay.
Diagram D below summarizes the results of a pre-clinical evaluation of two correctors plus potentiator combinations in homozygous donor cells from a single donor with the F508del mutation. The left side of the diagram shows the comparison of Orkambi with a single Galapagos corrector and potentiator combination. Orkambi and the Galapagos dual combination show comparable (~20% of healthy) restoration of CFTR in this pre-clinical evaluation. The right side of the diagram shows the Galapagos dual combination in comparison with a Galapagos triple combination comprising a potentiator and two correctors from the CF portfolio. Here Galapagos demonstrates in a pre-clinical evaluation that the Galapagos triple combination has greater CFTR restoration than the Galapagos dual combination in Class II cells.
Diagram C
'1837: compared to Kalydeco, G551D/F508del primary cells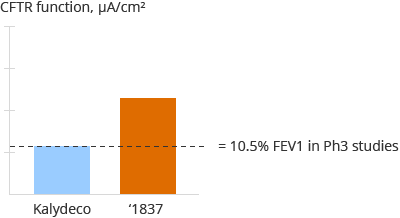 Diagram D
Dual and triple combinations, F508del/F508del primary cells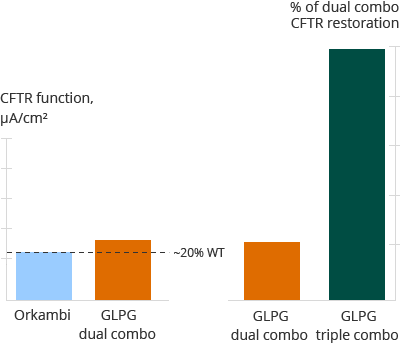 Galapagos also has preliminary pre-clinical data which suggests that certain of the Company's candidate drugs, in combination with facilitated mRNA translation agents, may potentially restore clinically meaningful CFTR function in Class I mutation patients.
GLPG1837
Phase 1 trial
Galapagos selected GLPG1837 as a pre-clinical candidate potentiator drug late in 2013. In December 2014, Galapagos initiated a Phase 1 clinical trial for GLPG1837, for which the Company announced topline results in October 2015. The trial was a first-in-human, randomized, double-blind, placebo-controlled, single center Phase 1 trial evaluating single ascending doses, or SAD, and multiple ascending oral doses, or MAD, of GLPG1837 in healthy subjects. The trial was designed to include five cohorts of healthy volunteers that participate in one or more treatment periods. In the SAD part of the trial the ascending doses alternate between cohorts which run in parallel. Other cohorts are executed consecutively and only upon successful completion of the SAD part of the trial.
On safety, GLPG1837 up to a single dose of 2000 mg and up to 800 mg twice daily for 14 days was generally well tolerated in this study. There were no adverse effects observed on ECG, vital signs, or on laboratory parameters. Treatment-emergent adverse events were rare, with the most common adverse events reported being headache and tiredness. The pharmacokinetics of GLPG1837 also proved favorable in this study. Rapid absorption occurred, with a mean apparent elimination half-life of 6-15 hours. The bioavailability of GLPG1837 was improved with food. Steady state was attained within the second dosing, with no accumulation.
Phase 2a trials
Galapagos initiated two Phase 2a clinical trials with GLPG1837 in Class III patients. In SAPHIRA 1, an open-label study of three doses of GLPG1837 in at least 12 patients with the G551D mutation, GLPG1837 was first dosed in patients in March 2016. In SAPHIRA 2, an open-label study of two doses of GLPG1837 in at least six CF patients with the S1251N mutation, GLPG1837 was first dosed in patients in February 2016. The SAPHIRA Phase 2a program will explore the safety, tolerability, efficacy, and PK and PD of GLPG1837 in patients in six EU countries and Australia. Primary objectives are to evaluate the safety and tolerability; secondary objectives are to assess changes in sweat chloride from baseline as the biomarker of CFTR ion channel function and to explore the changes in pulmonary function (forced expiratory volume in 1 second, or FEV1) from baseline. Both studies will include subjects treated with Kalydeco as well as those who are naïve to this drug. In each study, different doses of GLPG1837 tablets will be administered twice daily for a total duration of four weeks.
GLPG2222
Galapagos initiated a Phase 1 trial for our first C1 corrector candidate, GLPG2222, in January 2016, triggering a $10 million payment from AbbVie. Galapagos is conducting this randomized, double-blind, placebo-controlled study over a range of doses of GLPG2222 in healthy volunteers in Belgium and expects topline results in the first half of 2016.
GLPG2665
In November 2015, Galapagos selected GLPG2665 as the first C2 corrector candidate. GLPG2665 was the first candidate to complete the potential triple combination therapy for the delta F508 (class II) mutation in CF. GLPG2665 in combination with corrector GLPG2222 and potentiator GLPG1837 consistently have shown restoration of healthy activity level in human bronchial epithelial (HBE) cells of patients with the Class II F508del mutation. The combination resulted in chloride transport up to six-fold greater than Orkambi in HBE cells with the homozygous F508del mutation. GLPG2665 has entered pre-clinical development.
Galapagos entered into an exclusive collaboration agreement with AbbVie to discover, develop and commercialize novel CF modulators. AbbVie and Galapagos are working collaboratively, contributing technologies and resources to develop and commercialize oral drugs that address the main mutations in CF patients, including Class II and Class III.