The Galapagos share
The Galapagos share
Galapagos NV (ticker: GLPG) has been listed on Euronext Amsterdam and Brussels since 6 May 2005 and on the NASDAQ Global Select Market since 14 May 2015. Galapagos NV forms part of the Bel20 index on Euronext Brussels (since 21 March 2016; previously we were part of the BelMid index) and of the Amsterdam Midcap (AMx) Index on Euronext Amsterdam.
The Galapagos share in 2015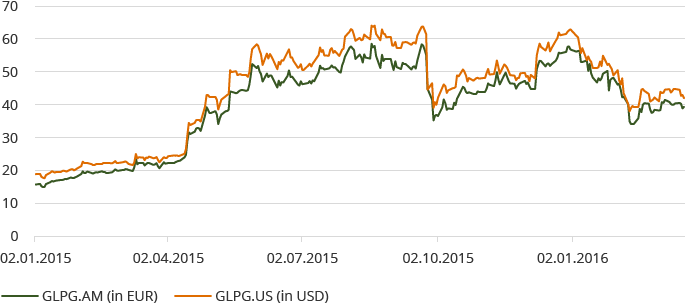 In 2015, average daily trading on Euronext was 292,581 shares and €12.0 million trading value, both metrics representing significant increases over 2014. Galapagos' daily trading on NASDAQ, which commenced on 14 May 2015, was 101,750 shares and $5.2 million trading value in 2015.
Galapagos vs Next Biotech Index in 2015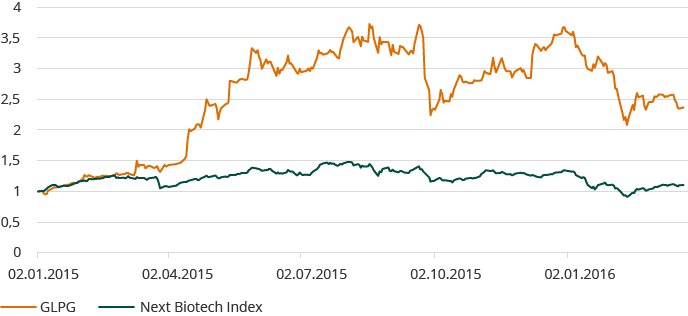 Investor relations activities
We increased our exposure to U.S. investors through the successful NASDAQ IPO, attracting more U.S. shareholders and sell-side analyst coverage by U.S. banks. Our IR team presented at several conferences in 2015 and did a number of broker-organized and self-organized roadshows throughout the U.S. and Europe. We presented Full Year, Half Year and Q3 2015 results via webcasts. We established an IR presence in the Boston area in September 2015.
The main topics of discussion with investors included the filgotinib DARWIN and FITZROY program results, the AbbVie licensing decision, the Gilead collaboration, developments in our cystic fibrosis programs, and Galapagos' cash position going forward.