Jef's story
'The scariest thing about RA is the speed with which it can develop'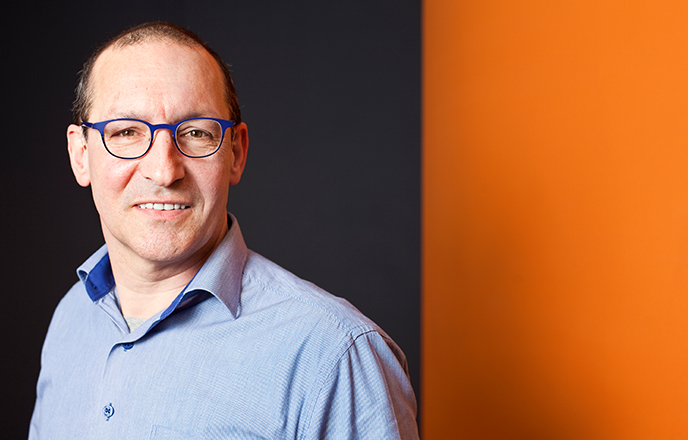 Jef van Rompay (56) is a physiotherapist who has three daughters and four grandchildren. In 2002 he was diagnosed with rheumatoid arthritis (RA). As a 'professional' patient, he wishes to inform others about the disease and the importance of recognizing the early signs.
"Rheumatoid arthritis is an insidious condition which tends to creep up on you. In late 2001, I started to feel pain in my feet and lower arms. It became more difficult to open the car door, that sort of thing. As a fit and healthy 42-year-old, the possibility of RA didn't occur to me. I thought it was probably work-related strain. But it got worse. I was no longer fit and healthy. The problems were no longer confined to my joints. I felt unwell and tired all the time. I had several blood tests for rheumatoid factor but it was only the fourth time – some six months later – that the results came back positive. That goes to show that the clinical symptoms of RA are far more important than any laboratory tests.
The sooner you know about it, the better. That gives you a chance to hit the disease back with a high dose of drugs and perhaps lessen the longer-term impact. It really is a case of striking while the iron is hot. People tend to go to their doctor with the usual aches and pains but the inflammation associated with RA is easily overlooked. If the disease isn't treated properly from the outset, other joints are likely to be affected. The scariest thing about RA is the speed with which it can develop, plus the huge impact it has on your general sense of wellbeing. Your fitness, condition and quality of life can go downhill extremely quickly.
It's possible that my RA won't respond to the traditional therapies quite so well as time goes on, but it is very reassuring to know that there are new drugs in the pipeline
Good information is really important. The more you know, the more comfortable you can make your life and the better you will be able to cope. Quality of life is very important to me. I have enjoyed fifteen fantastic years, both professionally and at home, despite having RA. It is in remission because I have been getting the right treatment all this time. I always do what the doctors tell me: patient compliance is extremely high in my house! It can be unpleasant when the RA flares up, which happens once in a while, but a good dose of the drugs brings it back under control. It's possible that my RA won't respond to the traditional therapies quite so well as time goes on, but it is very reassuring to know that there are new drugs in the pipeline. More effective, safe new medicines are our 'window of opportunity'."