Clinical program for filgotinib for CD
Clinical program for filgotinib for CD
Filgotinib is currently in Phase 2 clinical development for CD and has shown favorable activity in pre-clinical models for IBD. Galapagos announced the completion of recruitment for FITZROY, a Phase 2 trial in CD with filgotinib, on August 6, 2015. This trial enrolled 175 patients with CD, evaluating the induction of disease remission at 10 weeks and clinical response and other parameters with up to 20 weeks of treatment. Patients were recruited from 49 centers in Eastern and Western Europe. We announced topline results of 10 weeks of treatment in the CD trial in December 2015 and expects to announce topline results from 20 weeks of treatment in April 2016. Pending regulatory approval, a global Phase 3 clinical program in CD is expected in 2016.
Below is an overview of the design for the FITZROY clinical trial.
Trial Name

FITZROY (GLPG0634-CL-211)

Trial Design

Double-blind, placebo-controlled add-on to stable background treatment (e.g., corticosteroids, aminosalicylates or CD-related antibiotics).

Two trial parts: 10 weeks Part 1 + re-randomization +10 weeks Part 2.

Part 1 - two trial arms:

one daily dose level: 200 mg (q.d.)
placebo

Part 2 - three trial arms:

two daily dose levels: 100 mg and 200 mg
one dose regimen for each dose level: once (q.d.)
placebo

Patient Population

Subjects with active CD with evidence of mucosal ulceration.

Trial Objective

Proof-of-concept trial of filgotinib for the treatment of active CD.

Number of Subjects Randomized

175

Total Treatment Duration

20 weeks

Primary Trial Objective

At week 10: Efficacy in terms of the percentage of subjects achieving clinical remission (CDAI score of less than 150) following 10 weeks of treatment versus placebo.

Secondary Trial Objectives

Efficacy in terms of percentage of subjects achieving clinical response, clinical remission, endoscopic response, endoscopic remission and mucosal healing compared to placebo
Safety, tolerability and PK
Effect of filgotinib on quality of life, on selected PD/ biomarkers and histopathological features of the intestinal mucosa
Develop an exposure-response model between filgotinib / major metabolite exposure and selected PD/biomarkers or efficacy markers
In December 2015, we announced achievement of the 10-week primary endpoint in FITZROY:
FITZROY study CDAI responses, ITT-NRI, W10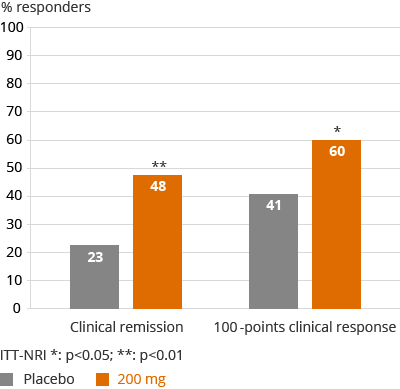 Overall, in the FITZROY study at 10 weeks of treatment, filgotinib demonstrated a favorable safety profile consistent with the previous DARWIN studies. Similar incidences in SAEs and AEs were observed between filgotinib and placebo, with the majority of the SAEs related to worsening of CD. In the FITZROY study, filgotinib showed a favorable lipid profile with an increase in HDL and no change in LDL, resulting in an improved atherogenic index. An increase in hemoglobin was also observed in FITZROY, without difference between filgotinib and placebo. No clinically significant changes from baseline in neutrophils or liver function tests were observed in this study at 10 weeks.
We expect to announce results from the 20-week final readout in April 2016. Gilead plans to initiate Phase 3 trials with filgotinib in CD in 2016, pending the successful outcome of discussions with regulatory authorities.
Phase 1 trial / pre-clinical study
In a pre-clinical study, Galapagos demonstrated encouraging activity results in a mouse dextran sodium sulfate, or DSS, induced colitis model. In Phase 1 clinical trials for filgotinib described above, we demonstrated a sustained effect of JAK1 inhibition over a 24-hour period with a low likelihood of drug-drug interactions.
Ulcerative colitis
Ulcerative colitis, or UC, is an IBD causing chronic inflammation of the lining of the colon and rectum. Unlike CD, UC involves damaging inflammation of only the colon and rectum. The disease often presents in young adulthood. In patients with moderate to severe UC the symptoms include frequent loose bloody stools, anemia, abdominal pain, fever, and weight loss. UC affected nearly 625,000 people in the United States in 2012, according to a December 2013 GlobalData EpiCast report.
The ultimate aim in the treatment of UC is to change the natural course of the disease by slowing down or halting its progression, thus avoiding surgery or hospitalization. The current standard treatment for mild-to-moderate UC is 5-aminosalicylates, or 5-ASA. Given either orally or rectally, these drugs work to decrease inflammation in the lining of the intestines. For patients who do not respond to 5-ASA, other treatment options include corticosteroids, immunomodulators, biological therapies, such as anti-TNF agents, and cyclosporin. Surgery may be necessary for patients with refractory UC. The global market for UC therapies was approximately $4.2 billion in 2012, and is estimated to grow to $6.7 billion in 2022, driven primarily by use of biological therapies, according to a September 2014 GlobalData PharmaPoint report.
Changes in UC treatment strategies, accompanied by advances in drug development and the addition of targeted biological therapies, have greatly improved the outcomes for patients. Although the introduction of anti-TNF agents has changed the treatment of refractory patients dramatically, only one-third or fewer patients will achieve long-term remission with such treatment, and many of those patients will eventually lose their response. In addition, anti-TNF agents have known side effects including increased risk of infections. As such, the medical need in this patient segment is still considered to be significant.
The primary existing compounds of UC therapies are shown in the table below.
| Compound | Drug Class | Company |
| --- | --- | --- |
| infliximab | Anti-TNF agents | Johnson & Johnson |
| adalimumab | Anti-TNF agents | AbbVie |
| golimumab | Anti-TNF agents | Johnson & Johnson |
| vedolizumab | Integrin inhibitor | Takeda |
| AZA | Purine analog (immunosuppressant) | generic |
| cyclosporine | Immunomodulator | generic |
| mesalamime | 5-ASA | Shire |
| mesalamime | 5-ASA | Actavis |
| mesalamime | 5-ASA | Salix |
| mesalamime | 5-ASA | Ferring |
| budesonide MMX | glucocorticoid steroid | Salix |
We believe that filgotinib may have potential application in UC. Xeljanz was shown to have a favorable efficacy profile in patient trials in UC. Given the higher selectivity for JAK1 of filgotinib, and the hemoglobin improvement shown with filgotinib in multiple Phase 2 patients studies including in CD, filgotinib's risk/benefit profile may prove to be even more attractive than that of tofacitinib in UC patients.
In 2015, we conducted a proof-of-concept study with GLPG1205, a potent and selective inhibitor of GPR84, in patients with UC. On January 26, 2016, we announced the results of the ORIGIN Phase 2a study, which confirmed good PK, safety and tolerability. The endpoints for efficacy in UC, however, were not met and Galapagos resolved to discontinue clinical development of GLPG1205 in UC.