Our differentiating approach
In 2022, we entered the field of oncology, CAR-T, and antibody-therapy research and development through the acquisitions of CellPoint and AboundBio. The transactions provide us with end-to-end capabilities in CAR-T therapy development and offer the potential for a paradigm shift in the space through the implementation of a breakthrough, decentralized point-of-care manufacturing model, and cutting-edge fully human antibody-based capabilities to design next-generation CAR-Ts and biologicals.
Point-of-care manufacturing
Despite continued progress with current CAR-T cancer therapies, long lead times, costly central manufacturing and complex logistics continue to be limiting factors for large-scale capacity and broad patient access.
To address important limitations of current CAR-T treatments, CellPoint (a Galapagos company) has developed, in a strategic collaboration with Lonza, a novel decentralized delivery model designed to manufacture non-frozen CAR-T therapies at the point-of-care.
Through decentralized manufacturing, complex logistics and cryopreservation of the cells can be avoided, and the average vein-to-vein time can be drastically reduced from up to months for currently approved CAR-T therapies to 7 days with our CAR-T candidates currently observed in our clinical trials.
The proprietary platform consists of CellPoint's end-to-end xCellit workflow management and monitoring software and Lonza's Cocoon®, a functionally closed, automated manufacturing platform for cell therapies.
The novel point-of-care model is compliant with the EMA and FDA guidance for clinical trials.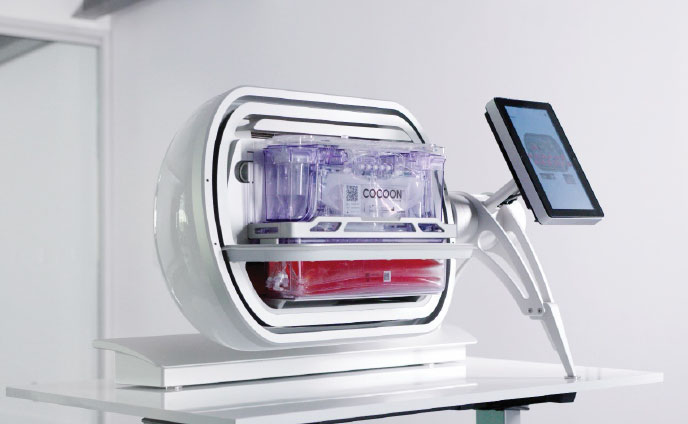 Antibody engineering capabilities
AboundBio (a Galapagos company) has developed several very large, diverse human antibody libraries in standard fragments of antigen binding (Fab), single-chain variable fragments (scFv), and unique variable (VH) domain formats. The team can rapidly (days to weeks) discover novel, high affinity, binders in multiple formats, engineer them if needed to improve their developability properties, and convert them for multiple uses including multi-specific, CARs, fusion proteins and antibody drug conjugates (ADCs). The proprietary methodologies to build large fully-human antibody-based libraries offer the potential to increase binder diversity, affinity and specificity; coverage of potential antigens; screening capacity; and probability of identifying a lead therapeutic antibody candidate.
In the field of oncology, AboundBio provides unique research capabilities for next generation CAR-T therapies that have the potential to deliver deeper and durable clinical responses, as well as additional drug modalities beyond small molecules.
Our new generation of fully human, multi-specific CAR-T constructs have the potential to transform patient outcomes through potentially more effective and longer-lasting care options, even in the event of relapse after previous CAR-T-cell therapy. Together with the decentralized CAR-T point-of-care manufacturing model, we aim to broaden patient access and ultimately hope to change their lives.
Antibody
A blood protein produced in response to and counteracting a specific antigen. Antibodies combine chemically with substances which the body recognizes as alien, such as bacteria, viruses, and foreign substances
Biological
Biological therapeutics, also referred to as Biologicals, are those class of medicines which are grown and then purified from large-scale cell cultures of bacteria or yeast, or plant or animal cells. Biologicals are a diverse group of medicines which includes vaccines, growth factors, immune modulators, monoclonal antibodies, as well as products derived from human blood and plasma. What distinguishes biologicals from other medicines is that these are generally proteins purified from living culture systems or from blood, whereas other medicines are considered as 'small molecules' and are either made synthetically or purified from plants
CAR-T
Chimeric antigen receptor T cells (also known as CAR-T cells) are T cells that have been genetically engineered to produce an artificial T cell receptor for use in immunotherapy
Cell therapy
Cell therapy aims to treat diseases by restoring or altering certain sets of cells or by using cells to carry a therapy through the body. With cell therapy, cells are cultivated or modified outside the body before being injected into the patient. The cells may originate from the patient (autologous cells) or a donor (allogeneic cells)
Cryopreservation
Process where biological material - cells, tissues, or organs - are frozen to preserve the material for an extended period of time
Development
All activities required to bring a new drug to the market. This includes preclinical and clinical development research, chemical and pharmaceutical development and regulatory filings of product candidates
EMA
European Medicines Agency, in charge of European market authorization of new medications
End-to-end
A process that takes a system or service from beginning to end and delivers a complete functional solution, usually without strong reliance on third parties
FDA
The U.S. Food and Drug Administration is an agency responsible for protecting and promoting public health and in charge of American market approval of new medications
Oncology
Field of medicine that deal with the diagnosis, treatment, prevention, and early detection of cancer
Point-of-care
Drug treatment is provided close to or near the patient