Letter from the CEO and Chairman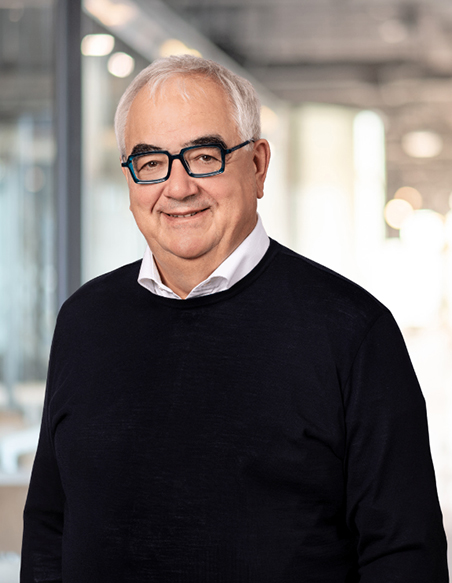 As I reflect on my first year as the CEO and Chairman of the Board of Directors of Galapagos, we can be proud of what we have achieved in a very short time to embrace and execute on a new R&D strategy for accelerated growth and a sustainable future for our patients, our people, and our shareholders.
2022 was characterized by major transformation and change but our purpose remains unchanged: transforming patient outcomes through life-changing science and innovation for more years of life and quality of life.
By year-end, we implemented a therapeutic area focused R&D model in immunology and oncology, and we added new drug modalities to include CAR-T cell therapy and biological capabilities. We aim to rebuild our portfolio with transformational medicines, by accelerated innovation and shorter drug development timelines.
Through the acquisitions of CellPoint and AboundBio, we gained access to a breakthrough, point-of-care CAR-T manufacturing platform, a clinical-stage CAR-T oncology pipeline and research capabilities for novel, differentiated CAR-T constructs, that together have the potential to deliver life-saving medicines to more patients, faster and more efficiently. Through the two acquisitions, we also onboarded an excellent team of cell therapy scientists and oncology experts.
We brought forward our CD19 CAR-T candidates manufactured at point-of-care in two Phase 1/2 studies in patients with relapsed/refractory non-Hodgkin lymphoma and chronic lymphocytic leukemia. We reported encouraging initial safety and efficacy Phase 1/2 results for both CAR-T candidates, which we believe demonstrate that through the decentralized delivery model, a 7-day vein-to-vein, leukapheresis to infusion time, is feasible. In addition, using non-frozen cells with a short culture time seems to result in a promising safety and efficacy profile of the CAR-T therapy.
Over the next years, we aim to further broaden our CAR-T oncology portfolio and bring additional differentiated CAR-T candidates into the clinic and to market, while further advancing the ongoing Phase 1/2 studies in hemato-oncology, for which Phase 1 topline results are expected around mid-2023.
In addition, we remain fully committed to immunology, an area where there is still significant unmet patient need and for which we have built deep scientific know-how and expertise since our founding. With our programs targeting multiple modes-of-action and drug modalities, we have a differentiated portfolio of preclinical to commercial assets.
We are very proud that our first marketed medicine, Jyseleca®, an orally administered JAK1 preferential inhibitor, continued to deliver solid in-market performance with a growing European base and €87.6 million in net sales for the year 2022, reaching 18,000 patients with rheumatoid arthritis and ulcerative colitis across Europe.
Although the topline results from the Phase 3 DIVERSITY trial of filgotinib in Crohn's disease were not supportive to submit a Marketing Authorization Application in Europe as the induction cohorts did not meet the co-primary endpoints, we were encouraged by the confirmed safety profile and the efficacy results observed in the maintenance study and will thoroughly review the full data to further help our understanding of this disease and to support future research efforts.
We plan to further invest in our Jyseleca® franchise and later this year, we aim to start a Phase 3 study in axial spondyloarthritis, a type of arthritis that typically begins between the age of 20 and 40, and that causes pain and swelling in the spine and the joints that connect the bottom of the spine to the pelvis.
Over the past year, we also made progress with GLPG3667, our selective TYK2 kinase inhibitor, and we aim to start a Phase 2 study in dermatomyositis in the first half of 2023 and in systemic lupus erythematosus in the second half of 2023.
Finally, to accelerate time-to-patients, we have expanded our drug modality capabilities in immunology, and recently announced that we aim to start clinical development with a CD19 CAR-T candidate in refractory systemic lupus erythematosus in 2023.
2022 was characterized by major transformation and change but our purpose remains unchanged: transforming patient outcomes through life-changing science and innovation for more years of life and quality of life.
Beyond our renewed portfolio focus, our strategic transformation also includes formalizing our Environmental, Social and Governance (ESG) ambitions. Over the course of 2022, we completed a new materiality analysis, which allows us to further focus our Sustainability ambitions in those areas that we believe are most material and where we can make the greatest impact.
With the new strategic direction, a new Executive Committee composition was implemented with the retirement of Dr. Walid Abi-Saab and André Hoekema, and the appointments of Valeria Cnossen, General Counsel, also responsible for Compliance & Ethics, the Corporate Secretary Office and Intellectual Property, and Annelies Missotten, Chief Human Resources Officer. In addition, our Board of Directors approved an updated Corporate Governance Charter, which refers, amongst other updates, to the establishment of the Management Committee supporting the Executive Committee. As a result, our senior leadership team has been further strengthened with key hires and internal promotions in Research, Development, Business Development and Commercial. We continue to endeavor to attract experienced top talent across the organization to execute on our strategy and accelerate innovation and time-to-patients in our strategic focus areas of immunology and oncology.
During 2022, we focused on optimizing our organizational set-up and cost base. Financially, we ended 2022 with a strong balance sheet of €4.1 billion in cash and current financial investments, which provides us with the necessary means to look for additional external innovation to accelerate our R&D portfolio while progressing our internal programs. We are confident that with our renewed focus to bring transformational medicines to more patients, faster, we are well-positioned to deliver significant long-term value for our shareholders.
Taking Galapagos on course for the future and embracing a new strategic direction was challenging and hard work for all the teams. I would like to thank all our employees for their commitment during the past year and for their relentless efforts to pioneer for patients. I want to sincerely thank our shareholders for their trust and continued commitment to stay with us on our journey.
We look forward with great optimism to a sustainable future as we continue to innovate for patients to give them what matters the most: more time with family and friends. More joy. Longer, healthier, better-quality lives.
Respectfully,

Dr. Paul Stoffels1
CEO and Chairman of the Board of Directors
Biological
Biological therapeutics, also referred to as Biologicals, are those class of medicines which are grown and then purified from large-scale cell cultures of bacteria or yeast, or plant or animal cells. Biologicals are a diverse group of medicines which includes vaccines, growth factors, immune modulators, monoclonal antibodies, as well as products derived from human blood and plasma. What distinguishes biologicals from other medicines is that these are generally proteins purified from living culture systems or from blood, whereas other medicines are considered as 'small molecules' and are either made synthetically or purified from plants
CAR-T
Chimeric antigen receptor T cells (also known as CAR-T cells) are T cells that have been genetically engineered to produce an artificial T cell receptor for use in immunotherapy
CD19
CD19 is a protein found on the surface of B-cells, a type of white blood cell. Since CD19 is a hallmark of B-cells, the protein has been used to diagnose cancers that arise from this type of cell - notably B-cell lymphomas
Cell therapy
Cell therapy aims to treat diseases by restoring or altering certain sets of cells or by using cells to carry a therapy through the body. With cell therapy, cells are cultivated or modified outside the body before being injected into the patient. The cells may originate from the patient (autologous cells) or a donor (allogeneic cells)
Chronic Lymphocytic Leukemia (CLL)
Chronic lymphocytic leukemia is the most common leukemia in adults. It is a type of cancer that starts in cells that become certain white blood cells (called lymphocytes) in the bone marrow. The cancer (leukemia) cells originate in the bone marrow and migrate to the bloodstream
DIVERSITY
Phase 3 program evaluating filgotinib in CD
Dermatomyositis (DM)
Dermatomyositis is a rare inflammatory disease. Common symptoms include distinctive skin rash, and inflammatory myopathy, or inflamed muscles, causing muscle weakness
Development
All activities required to bring a new drug to the market. This includes preclinical and clinical development research, chemical and pharmaceutical development and regulatory filings of product candidates
Efficacy
Effectiveness for intended use
Filgotinib
Formerly known as GLPG0634, commercial name is Jyseleca®. Small molecule preferential JAK1 inhibitor, approved in RA and UC in Europe and Japan. Phase 4 studies are ongoing in both RA and UC
GLPG3667
A TYK2 kinase inhibitor discovered by us, topline results from the Phase 1b in psoriasis reported in July 2021
Immunology
The study of the immune system and is a very important branch of the medical and biological sciences. The immune system protects humans from infection through various lines of defence. If the immune system is not functioning as it should, it can result in disease, such as autoimmunity, allergy and cancer
Intellectual property
Creations of the mind that have commercial value and are protected or protectable, including by patents, trademarks or copyrights
Jyseleca®
Jyseleca® is the brand name for filgotinib
Leukapheresis
Laboratory procedure in which white blood cells are separated from a sample of blood
Oncology
Field of medicine that deal with the diagnosis, treatment, prevention, and early detection of cancer
Phase 1
First stage of clinical testing of an investigational drug designed to assess the safety and tolerability, pharmacokinetics of a drug, usually performed in a small number of healthy human volunteers
Phase 2
Second stage of clinical testing, usually performed in no more than several hundred patients, in order to determine efficacy, tolerability and the dose to use
Phase 3
Large clinical trials, usually conducted in several hundred to several thousand patients to gain a definitive understanding of the efficacy and tolerability of the candidate treatment; serves as the principal basis for regulatory approval
Point-of-care
Drug treatment is provided close to or near the patient
Preclinical
Stage of drug research development, undertaken prior to the administration of the drug to humans. Consists of in vitro and in vivo screening, pharmacokinetics, toxicology, and chemical upscaling
Refractory
"Refractory" refers to a patient with cancer that is/has become resistant to, or does not respond to, treatment
Relapsed
"Relapsed" refers to a patient with cancer that develops cancer again after a period of improvement
Rheumatoid arthritis (RA)
A chronic, systemic inflammatory disease that causes joint inflammation, and usually leads to cartilage destruction, bone erosion and disability
Systemic lupus erythematosus (SLE)
An autoimmune disease, with systemic manifestations including skin rash, erosion of joints or even kidney failure
Ulcerative colitis (UC)
UC is an IBD causing chronic inflammation of the lining of the colon and rectum (unlike CD with inflammation throughout the gastrointestinal tract)
1 1Throughout this report, 'Dr. Paul Stoffels' should be read as 'Dr. Paul Stoffels, acting via Stoffels IMC BV'