Material aspect 1: Driving innovation
We strive to discover, develop, and commercialize breakthrough medicines with novel mechanism of action, addressing diseases where a high unmet medical need remains. Our mission is to add years of life and to improve the quality of life of patients suffering from severe diseases, with innovative medicines that offer alternative treatment options.
We are pioneering for patients
There is a real need for innovative medicines that address the underlying cause of a disease. There are many diseases for which there is no approved therapy today, and many more diseases for which current therapies leave room for improvement in patient outcomes. New mechanism of action medicines offer patients and caregivers alternative clinical options. At the same time, they have the potential to decrease the burden for society, by lowering healthcare costs.
We create value through science and innovation
Based on our powerful drug discovery engine, we are building a differentiated pipeline of novel product candidates to ensure continued innovation, with potential benefits to patients, healthcare professionals and society. To deliver on our mission to improve people's lives, we build partnerships to accelerate science and innovation, while sharing knowledge with a wider community.
Accelerating science and innovation through collaboration
Innovation is the key for us to deliver on our mission to improve people's lives. We strive to spark, establish, and endorse innovation at every level of our company. To realize that ambition, we foster team work and actively collaborate with different partners, each with their own specific experience, knowledge, and field of excellence.
Collaboration with academic institutions
We establish relationships and work closely with academic organizations and universities to accelerate development and boost innovation in discovery, preclinical, and clinical development.
Our team in discovery partners with a number of renowned institutions and consortia, including:
Institut de Ricerca Biomedica (IRB) in Barcelona, to identify and validate up to 20 drug targets in inflammation and fibrosis;
S. Fillatreau, Institut Necker Enfants Malades in Paris, in order to gain a deeper understanding of the involvement of B-cell subtypes in human pathologies;
M. Mendoza, Genopole in Evry, to develop and use spatial transcriptomics approaches;
SMART Organ-on-Chip, a consortium of academic and industry partners, coordinated by Prof.dr.ir. Jaap den Toonder, Eindhoven University of Technology (TU/e), to develop a standardized open modular approach to recapitulate tissue and disease biology, funded by NWO.
To gain more insights in specific disease areas, we collaborate with a number of experts, including:
For IBD:

Prof. Dr. Séverine Vermeire, University Hospital Leuven (Belgium) for IBD back-translation approaches using patient samples (blood, colon biopsies);
Dr.ir. Paul Vos, INIMINI-health, Wageningen University (The Netherlands) to study health-promoting nutrition and drugs using immune- and microbiota-competent intestine-on-a-chip. This research aims to integrate microbiota and immunity into a miniaturized assays and is funded by Health Holland.

For IPF:

Prof. Wim Wuyts, University of Leuven (Belgium) to discover targets and biomarkers in IPF using IPF lung transplant samples.

For ADPKD:

VLAIO collaboration with Prof. Djalila Mekhali, University Hospital Leuven (Belgium) to better understand cystogenesis in ADPKD;
Prof. Steven Ballet, Drug Innovation and Modulation research group at the Free University of Brussels (Belgium) for oligonucleotides peptide conjugation for kidney targeting.

For OA:

Prof. Ingrid Meulenbelt, FOACUS, Leiden University Medical Center (The Netherlands) for the development of a high throughput human osteoarthritis screening platform for disease target identification, funded by Health Holland;
Prof. Gerjo van Osch, HypOA, Erasmus Medical Center (The Netherlands) to understand the early processes in osteoarthritis through single cell RNA sequencing and development of in vitro assays that recapitulate relevant disease processes, funded by Health Holland.
Our research throughout these different disease areas is reflected in our differentiated pipeline as shown below:
Beyond these specific disease areas, we partner with Exeter University (UK) to contribute to sociological research around clinical trials in rare diseases, to optimize patient engagement and expand access to clinical trials. The project will also cover ethnographic research on planning and implementation of patient engagement activities at Galapagos. The collaboration started in 2021 and will span a period of three years.
Furthermore, we welcome students through internships and study projects, while we support our employees to collaborate with universities to obtain a doctoral research degree (PhD).
Collaborations with patient organizations and healthcare providers
Since our foundation, patients are our North star. We aim to a real difference to patients, their caregivers and families. To further build on that ambition and to grow closer to all our stakeholders, in 2021, we started working with three independent patient advisors and seven representatives from key umbrella and therapeutic area-specific patient organizations to develop the Galapagos Patient Partnership Charter (PPC).
In true Galapagos spirit, the Charter is about leading by example. We decided, from the start, to co-develop it with the patient community.
Launched in early 2022, the Charter defines what we stand for, what partnering with patients means to us, and our approach and commitments to working with and for patients.
To ensure continuity, we want to build on the great collaboration with patient representatives and advocates that we are currently engaging with. We are in the process of setting up the Galapagos Patient Engagement Council, a consultative body that will advise Galapagos on patient engagement-related topics and act as a knowledge exchange platform between Galapagos and the patient community.
Alongside our commitment to patients, their caregivers and families, we strive to offer optimal support to healthcare professionals (HCPs). To that aim, in 2021, we launched GalapagosHealth.com, a hybrid engagement environment where HCPs have access to the latest thinking and evidence on the treatment and management of RA and UC, based on clinical and real-world data, as well as through medical education that raises the industry standard to the next level.
€492M
Research & Development Expenses in 2021
Industry collaborations
We have several collaborations in place with other companies to complement and enhance our R&D efforts.
We entered into a strategic R&D collaboration with Gilead in 2019. We strongly believe that this is a mutually beneficial long-term collaboration, as we gain access to Gilead's extensive experience in drug development and commercialization, and Gilead to our platform and pipeline, with option rights to our current and future programs outside Europe.
Additionally, we have:
Collaborations with Ryvu and Scipher Medicine to further expand our inflammation pipeline and discover and develop novel targets in inflammation;
Collaborations with Fibrocor and OncoArendi to jointly work on innovative approaches to treat severe fibrotic diseases.
In addition to these ongoing collaborations, we continue to diligently evaluate new business development opportunities in our pursuit to bring innovation to patients.
Providing access to our knowledge
Promoting an open innovation model, while reaching out to a wider community
At Galapagos, we are committed to communicate the results from patient studies in a transparent way. Even if a clinical study has been terminated earlier than anticipated, we report the findings, based on the endpoints defined in these trials and share these with the medical community.
Open access publishing best serves our aim to make our observations in clinical development available barrier free to the research and medical community as well as to other stakeholders. Open access ensures that the highest quality, peer-reviewed evidence is available to anyone, anywhere in the world. It improves transparency, advances medical science and, we believe, ultimately improves people's lives.
We are proud that amongst our peers, we are one of the very first to publish with open access and as of October 2020 we, by our policy, make our publications freely accessible in peer-reviewed scientific and medical journals.
Furthermore, as of 2020 we actively participate in Open Pharma initiative, a first-ever collaborative, multi-sponsor, non-profit project. We believe that publications are the route to credible, compliant pharma communications. Open Pharma's long-term goal is to secure the same terms for authors who publish company-funded research as those for authors who publish research funded through other means. As such, all research findings are freely available to read and reuse, from the date of publication.
In 2021, Open Pharma published recommendations for plain language summaries of peer reviewed medical publications. We all believe that, as a minimum standard, publications should include a plain language summary in the style of an abstract that is easily accessible and straightforward to understand, free of expert jargon, unbiased, and non-promotional.
We promote careers in science through science, technology, engineering, math (STEM) initiatives
We actively engage in promoting science education and careers in science. We joined a consortium of more than 18 global companies and local organizations with one joint objective: creating a spark for science, technology, engineering, and math, specifically targeting youngster between the age of 10 and 14. Together with young people, we are engaging parents, teachers, and businesses to achieve this goal, and are targeting schools, businesses, events, and online channels, using an inclusive and gender-sensitive approach.
Our goals are to inspire children and youngsters, and to enhance access to STEM related subjects. We aim to:
Demonstrate that major societal challenges such as biodiversity, climate change, vaccines, and digitization can be tackled with STEM knowledge;
Collaborate with parents, teachers, and businesses to get STEM online and offline, in order to bring it closer to the target audience;
Illustrate that STEM is for everyone, regardless of background, gender, and ethnicity, by giving due attention to specific target groups.
More information is available on www.dasgeniaal.be and www.cestgenial.be.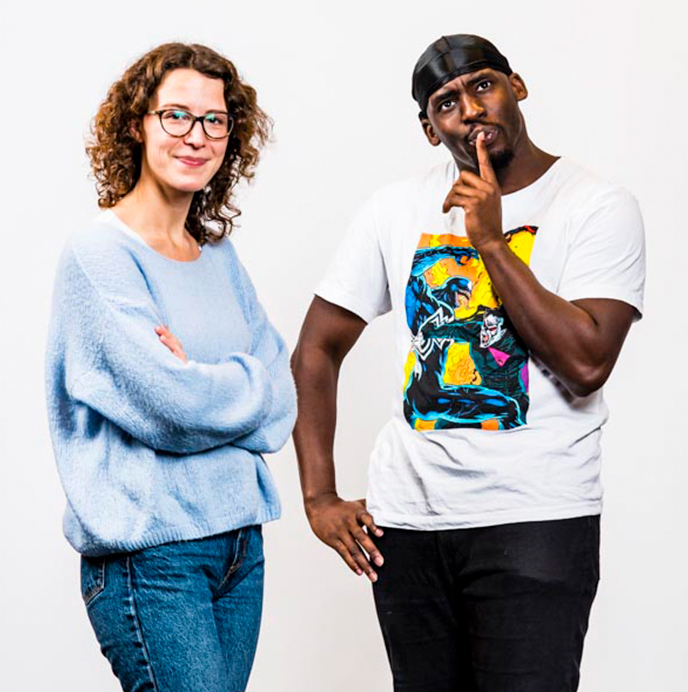 Material aspect 1: our actions in 2021
We delivered 4 new validated targets
We nominated 2 new preclinical candidates, all with a novel mechanism of action
We conducted 3 Proof of Concept trials
We received 1 regulatory approval for an additional indication for filgotinib in Europe and most recently in 2022 in Great Britain
In 2021, we responded to 682 inquiries through the Galapagos Medical Information service for Jyseleca, our marketed product, and our product candidates in development
Since 2009 our scientific efforts in research and development brought us to 49 preclinical candidates, most of which have novel modes of action. Of these, 24 have entered the clinic, 18 of which are expected to have novel modes of action.
We launched a digital challenge on social media to spark STEM with young people, reaching 121,100 views on social channels for our Dutch challenge, while developing a French challenge ready for launch in 2022
We developed the Patient Partnership Charter, defining what we stand for, what partnering with patients means to us, and our approach and commitments to working with and for patients
We launched the Galapagos Health information portal for healthcare professionals
Future ambitions
Set up the Galapagos Patient Engagement Council as a consultative body, advising Galapagos on patient engagement-related topics, and as a knowledge exchange platform between Galapagos and the patient community
Invest in our target discovery capabilities, to broaden our pool of targets, and deliver more validated targets and Proof of Concepts on a yearly basis
Continue to seek win-win collaborations to bolster the early-stage pipeline and endorse our innovative approach
Diligently scout for potential external business development opportunities to strengthen our pipeline
Further strengthen our European commercial organization to bring innovation to patients in need of breakthrough medicines
€4.7B
Current Financial Investments, cash and cash equivalents at end 2021
A strong balance sheet to ensure future growth, both internally and through externally sourced opportunities
ADPKD
Autosomal dominant polycystic kidney disease, a disease where typically both kidneys become enlarged with fluid-filled cysts, leading to kidney failure. Other organs may be affected as well
Filgotinib
Formerly known as GLPG0634, commercial name is Jyseleca. Small molecule preferential JAK1 inhibitor, approved in RA in European Union, Great Britain, and Japan, and in UC in European Union and Great Britain. Application for approval for ulcerative colitis was filed in Japan. Filgotinib is partnered with Gilead. Filgotinib currently is in Phase 3 trials in CD, and in a Phase 4 trial in RA
IBD
Inflammatory Bowel Disease. This is a general term for an autoimmune disease affecting the bowel, including CD and UC. CD affects the small and large intestine, while UC affects the large intestine. Both diseases involve inflammation of the intestinal wall, leading to pain, bleeding, and ultimately, in some cases, surgical removal of part of the bowel