Our commitment
Since the foundation of Galapagos in 1999, we have worked hard and continuously on bringing novel medicines to patients. I am proud of, and grateful for, the dedication of our employees as they have worked towards these goals, striving for innovation and knowledge while conducting business in an ethical and responsible manner. Our core values and culture are engrained in our DNA, as we build on these foundations for the future.
Our commitment to Corporate Social Responsibility (CSR) is intrinsically linked to our core mission: to discover and develop novel mechanism of action medicines for diseases with high unmet medical needs, to make a lasting positive contribution to society and improve the lives of patients worldwide.
Based on our core mission, in 2018, we engaged with internal and external stakeholders across our different locations to define the four material aspects of our corporate responsibility and sustainability approach. These help us to identify and prioritize the issues that matter most to our business in terms of growth, risk, and goals, and to our stakeholders, including patients, employees, investors, partners, and suppliers. The four material aspects have remained the pillars of our CSR strategy and action plans in 2021 and ensure that we report on the subjects that matter most.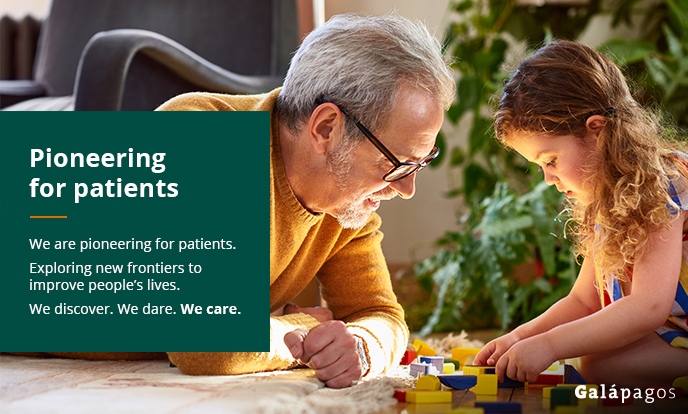 Today, we are excited to announce that in 2022, we will embark upon a company-wide CSR strategy to further strengthen the foundations for our sustainable future as an independent, fully integrated European biotech. Supported by the members of our management board, we have established a CSR Steering Committee, comprised of representatives from key departments throughout the organization. We plan to review our materiality assessment with internal and external stakeholders, to assess whether our current pillars best describe our contributions to, and impact on, society. Based on this, we aim to define a long-term ambition, measurable objectives, and a roadmap to improve performance and boost engagement. To increase our reporting on sector-relevant objectives, aid transparency and improve access to goals and performance, we intent to add further reporting frameworks in future CSR reports.
Respectfully,
Onno van de Stolpe, CEO
Galapagos' four priority topics and material CSR aspects:
Driving innovation
Accelerating science and innovation through collaboration
Providing access to our knowledge
Our employees are the strength behind Galapagos
Building a strong corporate culture, driven by an engaged workforce
Human capital management
Conducting business ethically and responsibly
Manage our operations with ethics and integrity
Our Code of Conduct
We care about the environment, health, and safety
Eco-efficient operations
Employee well-being
To standardize our data collection, we use the United Nations Sustainable Development Goals (SDGs), also known as the Global Goals, as our reference framework to link these material aspects to areas of engagement. The SDGs were adopted by all United Nations Member States in 2015 as a universal call to action to end poverty, protect the planet, and ensure that all people enjoy peace and prosperity by 2030.
This CSR report provides the non-financial information required by articles 3:6 § 4 and 3:32 § 2 of the Belgian Companies Code. For a discussion on risks, please see the section on Risk factors in this Annual Report.
We have identified two core SDG goals where we believe we can make a difference, as well as six enabling SDG goals which help us to materialize our commitment in alignment with our four CSR pillars.
The table below links our material aspects and engagement areas to selected aspects of the SDG framework:
CORE SDG
Good health and well-being
Health and improving lives through our breakthrough medicines are at the core of what we do
Partnerships for the goals
We embrace internal and external partnerships to work towards our mission to bringing much needed innovation to patients
ENABLING SDG
Quality education
We invest in our employees and foster an inclusive, open and supportive work environment across our 12 locations in Europe and the U.S.
Gender equality
We cultivate a corporate culture where we strive for gender equality
Decent work and economic growth
We have achieved our long-term ambition of becoming a fully integrated biopharmaceutical company and currently employ >1,300 people across our 12 locations in Europe and the U.S.
Industry, innovation and infrastructure
Our mission is to bring innovative medicines to patients suffering from severe diseases in areas of high unmet medical need in a social and sustainable way
Reduced inequalities
We aim to develop a balanced workforce across a number of criteria, including gender, nationality, ethnicity, experience and disability
Climate action
We value our planet and take initiatives to safeguard the environment and incorporate greener practices across our organization
Our commitment and areas of engagement are described below in the discussion of the four materials aspects, which are also linked to the eight SDGs that we consider important to the company.