Foundation & future
Onno van de Stolpe looks back on his 23 years at the helm of Galapagos. Paul Stoffels gives us a glimpse into the future. The Galapagos story continues.
Onno van de Stolpe, retiring CEO of Galapagos
'The time has come to focus on paradigm-shifting medicines and maximize what we have accomplished'
Over the course of 23 years, we have built a fully integrated biopharmaceutical company, from target to commercialization, the basis for the next phase. The goal for this next phase will be maximizing all that is there – our science, development capabilities, commercial infrastructure and our partnership with Gilead. Whereas our motto always has been 'creating value through science', the next phase will be characterized by 'maximizing value through science'. With Paul at the helm, I have no doubt this will be a successful next chapter for the company.
Going back to the early days, we started Galapagos from a technology perspective, convinced we had a technological edge by working with adenoviruses. First, we aimed at diseases of old age, because of the size of the market, high unmet need and our belief that we could use adenoviruses to find the targets for osteoporosis, RA and arthritis. We dropped osteoporosis fairly quickly because of some great new medicines that had come on to the market. When our first CSO joined in 2002 from GSK, we slowly adopted a more therapeutic development mindset although it was still quite rudimentary.
Our first strategy was to develop and commercialize novel targets, but we soon realized that targets alone were not a solid basis for a feasible business concept. Our targets were truly novel with, by definition, no external validation. Pharma companies were too risk averse to embrace this novelty and kindly passed on a collaboration opportunity. So, we made the pivotal decision to take our targets and develop the medicines ourselves. We started to add chemistry to the programs, and, as a consequence, we needed way more capital. We went public on Euronext in 2005, raised €22 million and were off. We built a strong fee-for-service organization 'from target to clinical candidate' by buying a number of companies and merging these into our service division BioFocus. In addition, we embarked on an alliance strategy with big pharma focused on a specific disease, whereby Galapagos identified targets and developed the compounds, and pharma obtained option rights to take over the program before or during the clinical phase. Galapagos got rewarded in the alliances through upfronts and milestones. These moves enabled Galapagos to grow very quickly, from 80 to 800 people in a couple of years, while keeping our burn rate close to zero.
However, along the way, all these Galapagos pharma partnerships fell away, for a range of reasons, none of which were to do with the robustness of the compounds. One of the compounds that we developed in such an alliance is filgotinib. When GSK decided to waive their option right in 2010, we decided to enter phase 1 with filgotinib ourselves, a brave decision that required a long discussion with our board, and a decision that changed the course for the company. Our breakthrough came a couple years later with the DARWIN Ph2 data. Then we knew for sure that we were able to develop a medicine ourselves and that we had a drug in our hand. At that point in time, we decided to build out the company even further, with a full fledge development organization and the first steps in preparing for commercialization.
Our constant strive for independence stems from my conviction that being part of a pharmaceutical company would not bring any additional value to our core business, which has always been based on true innovation around new mode of actions. Instead, and there are many examples of this, a take-over would have meant that our biotech culture and spirit would have soon diminished.
My dream had always been to create a broad, integrated company, maximizing our technology platform and innovation. In the beginning our alliance deals secured our growth, and after the DARWIN data we had access to seemingly unlimited resources to be able to continue on this path ourselves and become a novel medicines company, leveraging our own technology, innovation and culture. Unfortunately, my dream did not yet become reality due to a series of setbacks. Though failure is an integral feature of working in this industry, it was still really tough. We had a number of clinical setbacks, and the impact on the teams, the organization, the leadership including me has been enormous. Halting the development of ziritaxestat, our molecule for idiopathic pulmonary fibrosis in two phase 3 trials, was probably the hardest moment in my career. Devastating for us, but even more so for the doctors and patients who had high hopes for this medicine.
With the failures, our investors fled the stock and we lost over 80% of our value. This is life in a biotech, and we should not lose our faith and drive to come up with new medicines for patients. That is the 'raison d'être' of our industry and although it will take a couple of years still before we see our next proprietary medicines entering late-stage development, we will resurrect.
Looking back, the evolution of Galapagos was for a large part financially driven. Especially in the beginning availability of capital was a constant struggle. Our fee-for-service business model, the alliances, acquisitions and the filgotinib-partnership all eventually led to the grand collaboration with Gilead and the comfortable cash position we currently have. Now, instead of having to worry about the cash to finance next year's budget, the time has come to focus on paradigm-shifting medicines and maximize what we have accomplished. With Paul, who combines heart for the patient with business savviness and clinical development excellence, who is not only an inspirational leader but also a good friend, I am confident, proud and pleased that Galapagos will be in good hands and go on to achieve even greater things.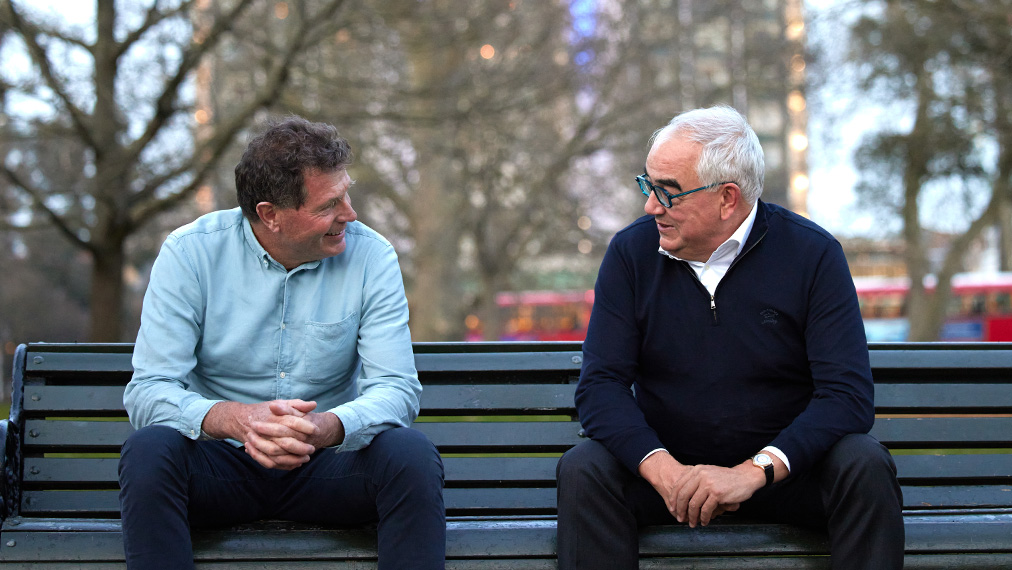 Paul Stoffels, next CEO of Galapagos
'Adding years of life and quality of life is the driver of what Galapagos should be based on'
The biggest challenge in drug development is the science, having a deep understanding of the disease. First-class expertise and knowledge of what is already out there in the world so that you're able to assess where you can make a difference with small molecules or biological platforms. What interventions are already there to solve a disease, what else can we do, how fast can we come up with a transformational solution, and what is the competition doing?
I started my career as a medical doctor. Just out of university in Antwerp, I wanted to make a difference in the world. How do you that? You go where there is a high unmet medical need. So I went to Central Africa, where I was confronted with HIV and no medicines to do anything. Patients had two years of life expectancy in western countries but only two months in places like Kinshasa in Congo.
I got to know Dr. Paul Janssen, who was one of the most successful drug developers in the world, and he convinced me to come and work with him on doing drug research for HIV. He told me: 'Paul, one day we are going to solve HIV disease with one pill, once a day, it will be safe and available worldwide, and people will survive lifelong.' I thought: this is crazy. He also said to me: 'Start and never give up. You will encounter many failures, but at a certain point, if you learn from your failures, you will succeed. Twenty years later, here we are: one pill a day, people live full lives, and HIV has become a chronic disease. Focusing on making the difference in years or life and quality of life generated for patients is the core of what we do in our industry.
From this experience, I learned that it takes time and focus on staying the course, besides good science. When you fail, you must get back up and keep going. I have had many failures, but with solid teams, we kept going, and, in the end, it worked out.
At Tibotec and Virco (later acquired by Janssen – J&J), we focused on HIV and HIV multidrug resistance science. We analyzed hundreds of thousands of HIV strains with phenotyping and genotyping making us the scientific leader of HIV drug research in this field. This focus meant that our work on resistance became essential in the discovery and development of several new medicines for HIV. We collaborated with academic institutions and pharma companies and published our findings in leading medical journals. We delivered three new medicines for treatment of HIV, two of which are still critical for patients with advanced HIV disease. Our single dose medicine became part of multiple combinations and was at the basis of the 1 and 2 month long acting injectable recently launched on the market.
When I later became head of R&D at Janssen, I applied that principle of focus to each of the therapeutic areas. How can we focus on a particular space where we still can make a big difference with science? This approach gave my team at Janssen, J&J and me the opportunity to deliver 25 new drugs over 15 years worldwide and to build-up an exceptional successful pharmaceutical company.
I am very impressed that as a small company, Galapagos has grown to become a listed company in Europe and the US and was able to bring a medicine from target to commercialization. There are very few companies in the world that have achieved this. Typically, a biotech company disappears after phase 2, another company buys, and there it goes. At Galapagos, we have our scientific core, our growing team across Europe, our great partner Gilead, our commercial and our strong financial infrastructure. You can have setbacks in development, that's part of the business we're in, but at the same time, the fundamentals are there for creating exceptional new medicines.
Our focus should be on 'adding years of life and quality of life' - the benefits we can deliver, generated by what we do in our scientific work. This is not limited to our science or research. It will comprise external science too, where needed, to come up with transformative science that will deliver relevant benefits for patients.
Being in the business of medicines that will create years of life implies that we should seek the smartest ways to do this – we have no time to lose. And that means we should continue to address high unmet medical needs in the world, because this will enable us to bring benefits to patients fast. Clinical studies will go faster, time to market will be shorter, reimbursement will happen quicker. This is what happens with assets that matter to health.
Finally, the passion for making a difference in the world brings everyone together to go fast, be effective, and enjoy what you do. We are making medicines for creating years of life. The more we do this, the better our business goes. Adding years of life and quality of life is the driver of what the company should be based on. Galapagos has all the fundamentals to make this happen.
I am looking forward to leading the company in its next chapter.
DARWIN
Phase 2 program for filgotinib in RA. DARWIN 1 explored three doses, in twice-daily and once-daily administration, for up to 24 weeks in RA patients with insufficient response to methotrexate (MTX) and who remained on their stable background treatment with MTX. DARWIN 2 explored three once-daily doses for up to 24 weeks in RA patients with insufficient response to methotrexate (MTX) and who washed out of their treatment with MTX. DARWIN 1 and 2 were double-blind, placebo-controlled trials which recruited approximately 900 patients globally and for which results were reported in 2015. DARWIN 3 is a long term extension trial in which all patients are on 200 mg filgotinib, except for U.S. males who are on 100 mg. The week 156 results from DARWIN 3 were reported in 2019
Filgotinib
Formerly known as GLPG0634, commercial name is Jyseleca. Small molecule preferential JAK1 inhibitor, approved in RA in European Union, Great Britain, and Japan, and in UC in European Union and Great Britain. Application for approval for ulcerative colitis was filed in Japan. Filgotinib is partnered with Gilead. Filgotinib currently is in Phase 3 trials in CD, and in a Phase 4 trial in RA