Material aspect 2: Our employees are the strength behind Galapagos
Attracting, nurturing, and retaining our employees is key to our success in developing novel mechanism of action drugs that can make a difference for patients. The key to achieve this is to make Galapagos the coolest place to work. Our approach to talent stems from our core corporate values and our strategic talent initiatives.
"Make it Happen'" is core to our corporate culture: people feel they can make an impact in our organization, which is highly motivating. We continue to ensure that this aspect is protected and managed as we continue to develop as an organization.
We are dedicated to ensuring diversity of our workforce and are committed to fostering an inclusive, open and supportive work environment across our locations in Europe and the U.S.
With the goal to conduct multiple clinical trials in 2021 and our ambition to boost commercialization of our first product, filgotinib for the treatment of RA, across Europe, our organization continues to develop and build expertise, and we are committed to maintaining our corporate DNA.
Gender Equality
We strive for gender equality across multiple dimensions, including talent attraction, female leadership and talent pipeline development, equal pay, creation of an inclusive culture, and rigorous implementation of sexual harassment policies. We are committed to supporting gender equality through policy development, representation, and transparency.
For example, in 2020, we celebrated the International Day of Women and Girls in Science, endorsing equal access to, and participation in science for women and girls. The talent and dedication of the 60% of our R&D colleagues who are women are essential to helping patients now and in the future.
We also joined a consortium of companies working on STEM initiatives, with a key focus on girls and STEM (Science, Technology, Engineering, and Mathematics) (www.dasgeniaal.be and www.cestgenial.be). One of the initiatives taken in 2020 was making a movie documenting the visit of a highschool girl to our Mechelen headquarters. She talks to Galapagos scientists about their passion for science, and about what scientific research can mean for the world. The movie was broadcast on national television and featured on social media channels (#STEMheroes). A version with English subtitles can be found here.
In January 2021, Galapagos was included for the second year in the Bloomberg Gender Equality Index, tracking the performance of public companies committed to disclosing efforts to support gender equality.
Galapagos is proud to be included the 2021 Bloomberg Gender-Equality Index
The list encompasses 380 companies headquartered in 44 countries and regions, across 11 sectors
Diversity
Our approach to diversity is deeply routed in our culture. Our culture and values bind us further in everything we do. This is evidenced in our decisions and actions while we aim to continue to develop an inclusive and diverse workforce as our business further grows and evolves. We strive for diversity across gender, nationality, ethnicity, experience level, and disability.
But no matter how diverse we are, we have an aligned purpose of pursuing medical breakthroughs to improve people's lives.
We attracted 504 new employees in 2020, 58% of the hires were female
We continue to attract people with various backgrounds and now have 50 different nationalities within the Galapagos group
Our supervisory board currently has eight members of whom four are female (we refer to the section supervisory board of our Annual Report 2020 for further information on each board member)
Our management board currently has six male members (we refer to the section management board of our Annual Report 2020 for further information on each board member)
Human capital management
At Galapagos, we believe our strong culture is fundamental to our business success. Our spirit of challenging ourselves without fear of failure underpins our work. While this bold attitude is naturally in our DNA – and we recruit exceptional people who are the right fit – we have defined our culture in a behavioral framework.
We act as a pioneer and are optimistic in our ambitions, motivated by innovation and attracted by the unknown
We positively embrace change and adapt to circumstances. Failing on occasion doesn't deter us; it's how we pick ourselves up that matters
We challenge ourselves and, in doing so, raise the bar of what is possible
Together, we want to create value and improve lives through science – and we find ways to make it happen
As new people from different backgrounds join our adventure, we ensure our culture evolves in the right direction. We continue to develop structured, integrated systems and practices that ensure we are all heading in the same direction on our path of discovery – because our culture transcends everything we do.
Our employees are at the core of everything we do. In our continued efforts to enable a great work experience at Galapagos, we offer our employees the platform to grow, develop, fail, learn and succeed. Our ambitious business strategy offers great opportunities to push the boundaries continually, enhance skills & competencies with the aim to continue delivering innovative science and breakthrough medicines. We honor our successes, while constantly raising the bar and allowing room for trial & error to drive innovation. We encourage our people to take ownership, be entrepreneurial, and make a difference.
At Galapagos, we offer a competitive and evolving remuneration package that aims to reward, recognize, develop, and retain our employees in a way that aligns with the company strategy and culture. Employee compensation packages include performance bonuses and, for many employees, also share-related opportunities, which help drive sustainable performance and reward employees for their contributions to our success. The benefits we offer vary from country to country, based on local practices, customs, and statutory conditions. Employee benefits include cover for critical risks and key life events as well as provisions of different forms of leave in support of proper work-life balance.
We aim to ensure an inclusive, open, and supportive professional work environment across our international locations. We organize regular engagement meetings across all our business units to inspire and align the teams behind our vision and ambition. We hold informal inspiration virtual sessions with members of our management board for new and long-time employees across the different sites.
We listen to our people through formal and informal channels established to ensure adequate anonymity and psychological safety. Surveys are conducted to evaluate our actions, impact, and agility of our people processes. These and other indicators allow us to consider actions to optimize our work environment and enhance employee experience.
During the global pandemic, we took a number of initiatives to help employees manage this unprecedented crisis, including providing additional electronics to facilitate working from home, organizing online mindfulness moments, and paying a stipend to cover the additional costs incurred at home. We also implemented engagement initiatives to create team-cohesion and strengthen the feeling of belonging to the Galapagos family.
Our involvement with local communities and charities
We want to be part of the community in which we work and live. In the light of the ongoing COVID-19 pandemic, we transformed our annual Company Day, which traditionally includes a part dedicated to spending time with a range of charity organizations, into a cross-site "We Care" initiative. We strongly believe that our contribution to our communities is even more important than before.
Throughout our different locations, we engaged with various charity organizations supporting children and their families. With all the gifts, cards, and donations collected, we wanted to help underprivileged people enjoy a warm Holiday season.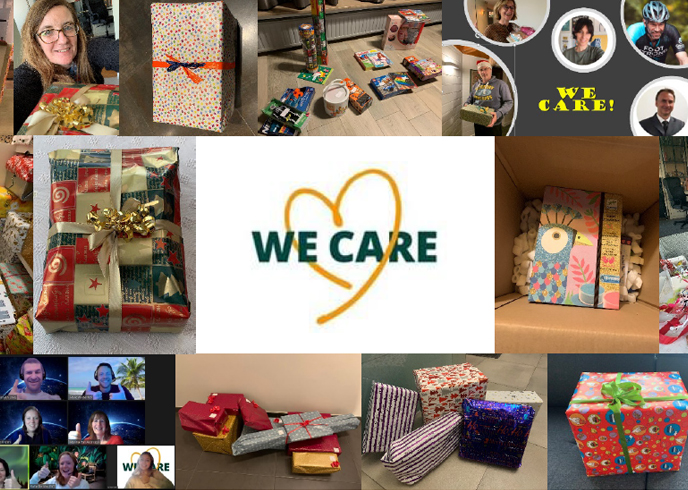 We promote a career in science through STEM initiatives
We actively engage in promoting science and a career in science. We joined a consortium of more than 18 international companies and local organizations with one joint objective: creating a spark for science, technology, technics, math, production and design for children between 10 and 14 years old. Together with young people, we are engaging parents, teachers and businesses to achieve this goal, and this with an inclusive and gender-sensitive approach targeting schools, businesses, events and different online channels.
Our goals are to inspire children and young people, and to create low access to STEM related subjects:
Demonstrate that major societal challenges such as biodiversity, climate change, vaccines, and digitization can be solved with STEM knowledge
Collaborate effectively with parents, teachers and businesses to get STEM online and offline, in order to bring it home to the target audience
Illustrate that STEM is for everyone, regardless of background knowledge, gender, and ethnicity, by giving due attention to specific target groups
For more information: www.dasgeniaal.be and www.cestgenial.be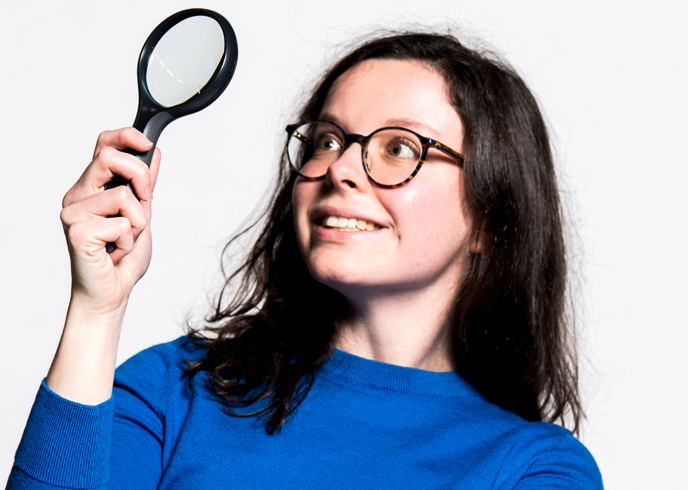 Actions in 2020
We engaged with local communities to give back to society
We improved our talent-scouting model during COVID-19 to safeguard recruitment of candidates fitting well with the DNA of Galapagos via increased use of recruitment tools, digital, and case-based presentations
We sharpened, digitized, and branded ("Your call for purpose") the Galapagos career site to stimulate interaction, insight, and candidate friendliness. We engaged with external candidates and pitched our employer brand and value propositions at several career fairs
We made our onboarding approach and program more efficient, robust, and attractive. To this end, the different business units set up onboarding initiatives and strengthened the "buddy" concept. In addition, an onboarding app was deployed to bring across the company values and assist with a smooth and effective start
Our performance management process embodies that talent is core and that employee development is critical to our success. We foster peer engagement, internal lateral mobility, and an open feedback culture to enhance performance and stimulate personal development. In 2020, about 79 employees (of which 70%+ women) undertook new roles and assignments with increased responsibilities
Our view that each and every employee is a talent stimulates focused learning interventions for personal and domain excellence. In 2020, we focused on enhancing team experiences, a journey that will continue in the coming years. We identified and prioritized capability development that meets performance and prepares our talents for future challenges in line with both organizational strategy and individual development ambitions
Our Total Reward Center of Expertise led the creation and roll-out of local reward offerings in new geographic markets, enabling the hiring, engagement, and retention of employees internationally. This has been a key step to support our commercialization ambitions in the big 5 EU markets & Benelux. In addition, as part of our evolving offering, we have made enhancements at both the international and country level for the benefit of our employees, including the launch of annual stock-based awards to drive further alignment between the company and our senior employees, improvements to family leave policies, and the introduction of a financial support package enabling remote working as part of our broader reimagination of the future of work
2.2% turnover of employees for the Galapagos group, excluding the termination of temporary and consultancy contracts
We set the platform to achieve digital ambitions at HR, by preparing the ground for the launch and go-live of an SAP-based performance management tool by end 2020
With growing offices in new European locations (Germany, Spain and Italy) we also established full scale HR services and payroll for all employees
We embarked on additional plans to stay close and connected to all our employees, supporting leadership teams to address challenges and unknowns from COVID-19. Due care was awarded to our workforce in the labs with frequent interactions. Our employees were empowered to discover new ways of working and collaborating, employing agility, heart, and humility
Faced with the setbacks in 2020, we invested even more in preparing strong communication plans, with extensive Q&A provided to senior leaders to help them to be closer to their teams, be well equipped, and supported. A continued transparent and open tone from the top, authentic presentations during townhall meetings, and allowing questions and answers from all staff guided employees on how to put the corporate news in perspective, and to build trust in our ability to overcome these headwinds with a plan and commitment
Future ambitions
"We Care" is in our DNA and we continue to remain committed to impactful local communities and charities, by, for example:

supporting local STEM-initiatives throughout our different sites
donating our depreciated IT materials to local organizations for educational support

The team will continue to focus on proactivity and ensuring quality. We aim to improve our employer branding position via campaigns that inspire: "Call for Purpose" and "In theory everything is possible - In practice, we make it happen!" Internally, we plan to boost cross-department mobilization of talents to build breadth of skills and expertise, while we create more connectivity and engagement to grow internal talents
Our leaders are stimulated to role model key behaviors, embody corporate values and to create the context for their teams to excel and as such to improve the competitiveness of our talent and the organization. Internal talent pipelines and succession plans will be refined where appropriate
To ensure a straightforward, future proof and attractive employee value proposition, we have embraced digital technology while constantly improving our core process. We continue to adopt cutting edge digital solutions to boost candidate and employee experience, empowering people processes across the whole organization
We will continue to evolve our competitive remuneration package to attract, retain, and engage talented employees. Remuneration is an area of focus, as it gives Galapagos a differentiation angle and competitive advantage. In addition, we will look for further opportunities to bring to life our remuneration principles, including reinforcing linkages between pay and performance, enabling employees to share in the company's success in alignment with shareholder interests, remaining competitive in existing and new geographic markets, and supporting employees and their families with locally relevant employee benefits
We will continue to drive and enable both mindset and practice when it comes to organizational agility. This starts with building a resilient organization, driving connections & collaborating with empathy within the company. Sustaining in turbulent environment and being highly responsive to our people has been our prime agenda and will continue. Further, leadership and line management will be strengthened and internal mobility boosted along with our approaches to retain and grow our talents across projects and programs